UM-Flint Mechanical Engineering Program Gains National Accreditation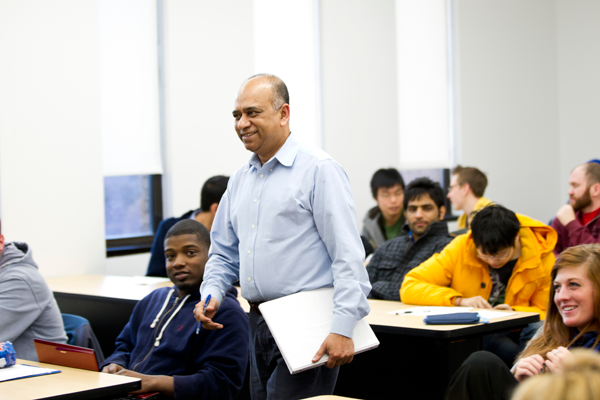 The Engineering Accreditation Commission of ABET (Applied Science Accreditation Commission) has finished an 18-month evaluation of the University of Michigan-Flint Mechanical Engineering Program and has granted accreditation.
The director of the program, Quamrul Mazumder, Ph.D. says the accreditation represents "a significant milestone that has been achieved through ABET accreditation."
According to the commission's website:
ABET accreditation is not a ranking system; rather, it is a form of quality assurance, declaring to the relevant professional community and to the world at large, that a program meets the quality standards set by the technical profession.
The interim dean of the College of Arts and Sciences (CAS), Albert Price, Ph.D., says the accreditation represents the first step in the ongoing efforts of CAS and UM-Flint to enhance offerings in science, technology, engineering and math (STEM) disciplines.
"This accreditation, in combination with the already strong collaboration with the College of Engineering in Ann Arbor through the 2+2 program, and sets the stage for UM-Flint to provide a coherent response to the societal demand for additional STEM graduates," said Price. "Now that Mechanical Engineering is ABET accredited, we can move forward with plans to develop Industrial and Electrical Engineering to offer a full range of options for our students."
The Mechanical Engineering program was launched to 2008, and the evaluation could not take place until the program graduated students and their job placement success could be tracked. Graduates of the program are employed by major organizations like John Deere Worldwide and the U.S. Department of Defense Tank Automotive Research Development Engineering Center.
Saiful Siddique, a product development engineer at Ford Motor Company recalled his senior project of building a better wind tunnel, "I have been to other universities as both a student and visitor, and I have never seen a senior project that approached this level. It was remarkable to get the funding for an undergraduate project of this size."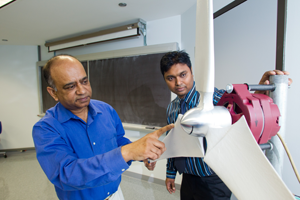 "I am so pleased that our Mechanical Engineering Program has received this confirmation of its quality and value," said UM-Flint Provost Gerard Voland. "Most importantly, it now allows our graduates to seek the designation of Professional Engineer if so desired. I congratulate all of my colleagues in Engineering for their wonderful work for our students."
Price noted that the achievement of accreditation of the Mechanical Engineering Program in CAS is the result of an enormous amount of work done primarily by the faculty and staff of the Computer Science, Engineering and Physics (CSEP) Department.
According to Price, "The effort was led by the outstanding performance of Professor Quamrul Mazumder, who organized the original application for accreditation, arranged the activities for the site visit that was conducted last fall, and the response to the initial report from ABET. Without Quamrul's tireless dedication to this purpose the result could not have been accomplished.
Contact University Communications & Marketing with comments, questions, or story ideas.