UM-Flint Gets Million-Dollar Grant to Help Veterans Enter Nursing Profession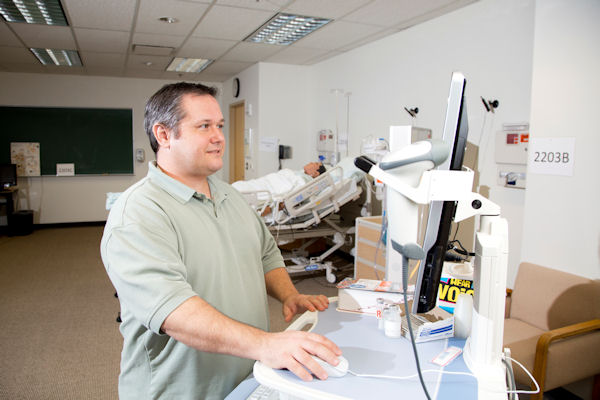 A new and unique University of Michigan-Flint nursing program aimed at bringing more military veterans into the nursing profession is being funded by a million-dollar grant from the U.S. Department of Health and Human Services' Nurse Education, Practice Quality and Retention Program over a period of three years.
The program is called Veterans Serving Veterans: the University of Michigan-Flint's Accelerated Bachelor of Science in Nursing Program for Veterans. It is designed to reduce transition and matriculation barriers for veterans to enter the Veteran Bachelor of Science in Nursing degree program (VBSN).
UM-Flint Department of Nursing Director Marge Andrews said, "The UM-Flint nursing faculty are proud of our current student veterans, and committed to recruiting and retaining even larger numbers of students with military health care training who are seeking to earn their bachelor's degree in nursing. The three-year, $1 million grant from the U.S Department of Health and Human Services will enable the Department of Nursing to create an accelerated career ladder option that builds on veterans' prior military training while ensuring that they complete the curricular requirements for the Bachelor of Science in Nursing (BSN) degree and are well-prepared to pass the Registered Nurse (RN) licensure exam."
The team for this project consists of a project director, program manager, advisor, administrative assistant, and evaluation consultant—some of whom are veterans. The director of the program is Assistant Professor of Nursing Beverly Jones, who is a veteran.
Andrews said she was proud of Jones for her prior service as a lieutenant in the U.S. Army Nurse Corps, and for obtaining grant funding to facilitate the educational mobility of student veterans who want to become professional nurses. The UM-Flint VBSN Program will be open to all honorably or generally discharged medics and service members with other health care training and experience, but who do not have BSN degrees.
The Nursing Department is appreciative and proud of the strong support and recognition provided to veterans by the University of Michigan-Flint executive leadership. This support helped the university earn national recognition for its exemplary service to student veterans.
For information on UM-Flint's nursing program, visit www.umflint.edu/nursing/.
PHOTO: John Mellott first earned a degree in Business Administration from UM-Flint. When he returned from military service, he decided to get a degree in Nursing as well. 
Contact University Communications & Marketing with comments, questions, or story ideas.