Area Police Agencies Join to Bring 3-on-3 Basketball to Downtown Flint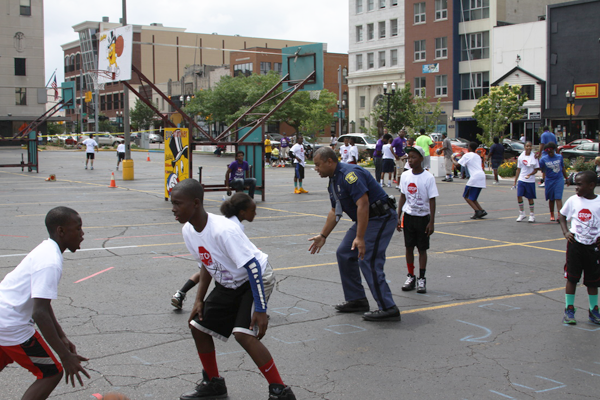 Basketball action returns to downtown Flint with the Second Annual Stop the Silence 3-on-3 Basketball Tournament. The June 28th free tournament is expected to draw dozens of boys and girls teams from throughout the greater Flint area.
New this year, is online registration. Teams can visit www.stopthesilenceflint-weebly.com and download the registration form that can be easily submitted by email. Paper forms will also be available at several locations around Flint, including the Boys and Girls Club.                                                  
Stop the Silence Tournament:
Saturday: 7:30 am- Registration begins
9:00 am- Tournament play begins
(estimated 4-6 hours)
The tournament for youth 7-18 years old, will be held on the Downtown Development Authority (DDA) parking lot on Saginaw St. between Kearsley and First St.
Area police agencies and other organizations are joining together to make the tournament possible.
A unique requirement for an individual to participate in the tournament is to sign a pledge to "Stop the Silence."  It means they share information about a crime with a parents or responsible adult such as a teacher or police officer.
"This is a great way for the kids to get to know the officers, and the police to get to know the kids," said Ray Hall, director of UM-Flint's Department of Public Safety. "What we'd like to see is if something happens in a neighborhood that kids with information feel comfortable enough to share it with us. It's the best way to fight crime when the community helps."
Participation in the 3-on-3 tournament will be capped at the first 500 players.
UM-Flint's Department of Public Safety and UM-Flint Student Government are joining with Flint P.D., Sheriff's Dept., Michigan State Police, DDA, Boys and Girls Club of Greater Flint, Prima Civitas, Flint Police Athletic League (PAL), and Genesee Packaging are just some of the agencies and companies supporting the tournament.
Contact University Communications & Marketing with comments, questions, or story ideas.