UM-Flint Student Elected to National Student Nurses' Association Board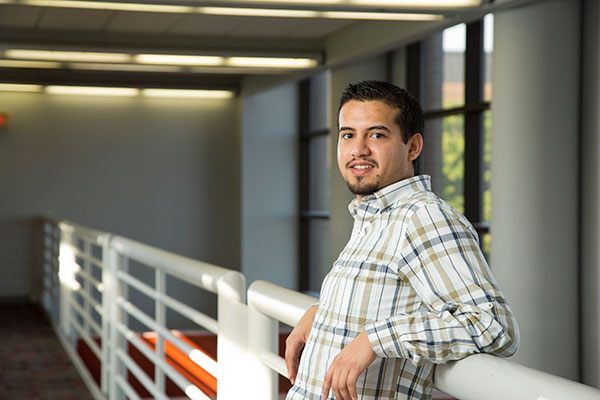 When nursing student Martin Rivera-Salas first learned about the National Student Nurses' Association (NSNA) two years ago, he was surprised to hear that there had never been a UM-Flint student on the national board. His path, beginning with the UM-Flint Student Nurses' Association, eventually led him to make history.
Martin was first elected as president of his nursing degree cohort in 2012. From there, he got involved on campus and beyond. He explained, "I was elected to secretary of the UM-Flint Student Nurses' Association, followed by serving as president. Concurrently I served as 2013-2014 Director of Communications for the Michigan Nursing Students Association. The work that we did in Flint was award winning, and so was the work at the state level. This February I was elected President of the 2014-2015 Michigan Nursing Students Association."
Clinical assistant professor Deborah Filos is the faculty advisor for the UM-Flint Student Nurses' Association. "Martin is very involved," she observed. "He is motivated and does not back away from a challenge. It has been a pleasure to have watched him develop from a beginning student into a confident student and student nurse leader."
Added to Martin's list of impressive accomplishments are his selection as the Michigan Outstanding Nursing Student Award, his double major in nursing and psychology, and his presentation of psychology research at a national conference. Despite his very full plate, he felt compelled to get more involved with NSNA.
"It was at the 2013 National Mid-Year Conference in Louisville, Kentucky that I was introduced to the role of the National Breakthrough to Nursing Director. The position focuses on bringing underrepresented populations into nursing. It was everything I have ever wanted to do. I decided to run… I spent more time reviewing and less complaining. I stopped every negative thought I ever had. Most importantly I always reminded myself that it was possible."
At this year's NSNA Annual Convention, Martin was elected as the 2014-2015 Breakthrough to Nursing Director for the NSNA Board of Directors.
Of his future in this position, he said, "The first objective is to inspire. To show the public those nurses who have become scientists, managers, educators, organizers, specialists, public servants. Those nurses who think and act differently."
Contact University Communications & Marketing with comments, questions, or story ideas.