Congressman Dale Kildee Donates Papers, Artifacts to UM-Flint Library and Establishes Education Scholarship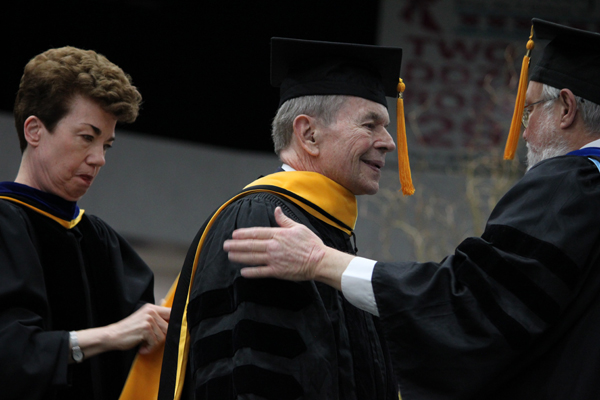 Retired Congressman Dale. E. Kildee continues his longstanding support of the Flint community through a donation of key items from decades of work in Washington D.C. to the University of Michigan-Flint's Frances Willson Thompson Library. In addition, a scholarship honoring Kildee has been established that will benefit students aspiring to careers in education.
"I am grateful to Congressman Kildee for choosing UM-Flint as the home for such important pieces of congressional history," said Chancellor Ruth Person. "These documents and artifacts will be important to scholars for years to come."
Among the items that will become part of the library's archive include historical documents and numerous photos taken over the years of bill signings with Presidents, as well as photos with foreign leaders. One of the highlights of the donation is a gavel that Congressman Kildee used when he was Speaker Pro Tem of the United States House of Representatives in May 1983. A vote occurred to override a veto on a nuclear freeze resolution issued by former President Reagan. The Speaker of the U.S. House at the time, Representative Tip O'Neil, personally signed the gavel. The gavel also includes the bill number of the legislation that was formally overridden.
A scholarship fund has also been established honoring Congressman Kildee. The Dale Edward Kildee Education Scholarship will provide assistance for students pursuing their degrees in education. The University as well as friends of Congressman Kildee have joined together in a campaign to raise $100,000 toward an endowment for the scholarship fund. To date, approximately $30,000 has been raised.
"As a former teacher and life-long advocate for learning, Congressman Kildee understands the difference education can make in a young person's life," stated Interim Dean Robert Barnett of the UM-Flint School of Education and Human Services. "The establishment of this scholarship will ensure that deserving students receive the support they need so they can go on to help others to grow through positive educational experiences."
For anyone interested in making a donation to the Dale Edward Kildee Education Scholarship, contact the Office of Development and Alumni Relations at 810-424-5448.
Contact University Communications & Marketing with comments, questions, or story ideas.