UM-Flint Alumnus Receives Recognition for Homeland Security Investigation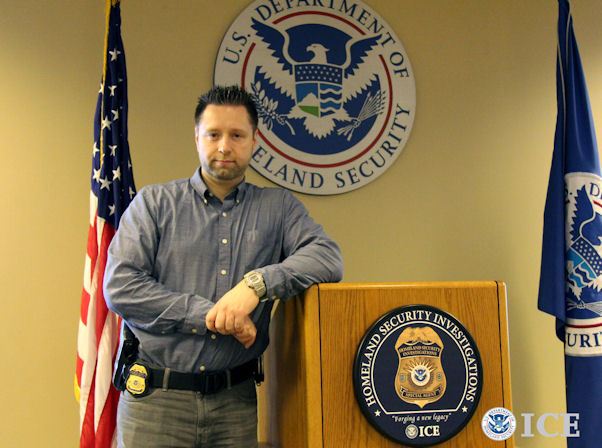 A University of Michigan-Flint alumnus was part of an investigative team responsible for the arrests of 49 individuals charged in Puerto Rico with allegedly trafficking identities of Puerto Rican U.S. citizens.
Ryan Ribner, a 2002 criminal justice graduate, is a special agent with Homeland Security Investigations (HSI). HSI is responsible for investigating a wide range of domestic and international activities arising from the illegal movement of people and goods into, within, and out of the United States. It is part of U.S. Immigration and Customs Enforcement (ICE) and is the principal investigative arm of the U.S. Department of Homeland Security (DHS).
Ribner was one of three HSI employees to receive the Assistant Attorney General Awards for Distinguished Service for his work on the case.
"It was always my dream as a police officer to be with this agency. Its reach is so broad and covers so many areas," said Ribner.
Currently, he works out of the Chicago office, but someday he looks for an assignment in Asia or Europe. HSI has offices in countries throughout the world.
While Ribner was able to fulfill his dream job, his road to it was sometimes a rough one. His parents were teachers in Flint Community Schools and he attended both Powers Catholic and Hamady high schools. After graduating from UM-Flint he started a master's program at Oakland University, but decided instead to attend the Flint Police Department Academy. If timing is everything, he couldn't have picked a worse time to be a police officer. Cities were facing tough budget decisions and very often, police departments were cut. With no jobs in this area, Ribner headed to Chicago. He worked for a few smaller departments before being accepted to the six-month HSI training program in 2009.
While Ribner is proud of the recognition he has received, he says the investigation into the identity thefts is not completed. He says it's a major problem that reached into cities across the country.
Contact University Communications & Marketing with comments, questions, or story ideas.