UM-Flint and Genesee Early College Bring Back First Robotics Team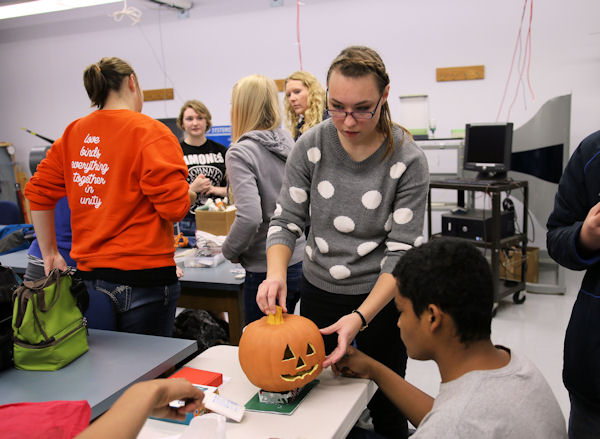 Students from the Genesee Early College (GEC) are designing and carving a pumpkin. It's a great way to learn the teamwork that will be needed to turn the pumpkin into a Halloween robot. This is the first project of the newly formed University of Michigan-Flint First Robotics Team.
It has been several years since the campus has hosted a team. A large number of GEC students approached one of their math teachers, Greg Myers, to start a team. Myers, joined by social studies teacher Carly Deleu, contacted UM-Flint's Department of Engineering about sponsoring the team. Engineering Technician John O'Brien agreed to take on the project of helping to rebuild the First Robotics team. He already has six engineering students who have agreed to help with the programming, design, construction, and testing of a robot.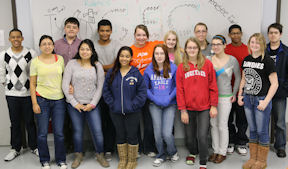 O'Brien suggested the pumpkin project (the automated pumpkin will turn and follow you as you walk near it) as way of introducing the students to what they will need to do to build a competitive robot.
In early January, the First Robotics program will announce the specifications of the robot needed for upcoming competitions. The club will be given a kit that will be used in building the team's robot. They will have six weeks to build and test it before the first competition, to be held at Kettering University.
So far, 26 GEC students make up the team. O'Brien has purchased the items needed for the early projects, but one of the first goals of the team is to do some fundraising.
Contact University Communications & Marketing with comments, questions, or story ideas.