New Dean of UM-Flint's School of Management Has Broad Agenda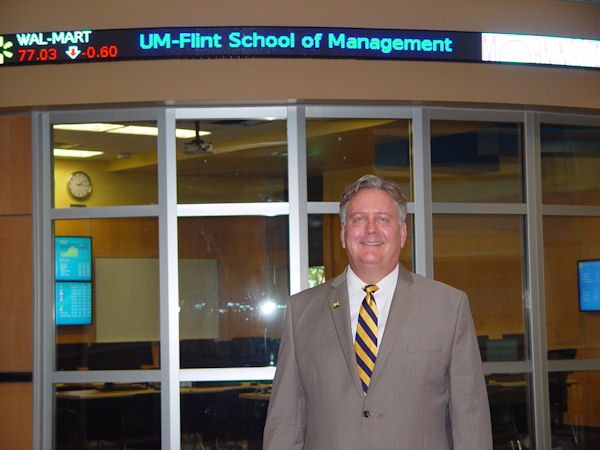 The new dean of the University of Michigan-Flint School of Management (SOM) has already established a long list of goals that includes, among other items, gaining more input from community members and building the SOM brand.
Scott D. Johnson, Ph.D., former dean and professor of marketing at Illinois State University, was selected earlier this year as new SOM dean. His appointment was effective July 1, 2013.
As a way of introducing him to the campus and community, UM-Flint Today asked Dean Johnson a series of questions about his new position.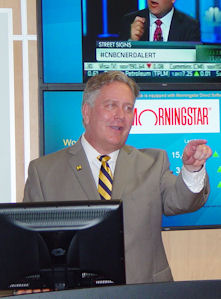 Why do you think the University of Michigan-Flint School of Management is a good fit for you?
I like the concept of an engaged and diverse urban institution like UM-Flint. It provides opportunities for students and faculty alike to interact with organizations that build a dynamic community. This includes businesses as well as not-for-profits, and governmental entities. I enjoy being out in the community and participating in university initiatives and civic events. This past weekend my wife and I had lunch downtown and then went to the Farmers' Market, the Flint Institute of Arts, and the Flint Public Library. There is much to offer in Flint.
Have you determined some goals that you would like to work on?
Some major goals in the coming weeks and months will be to get acquainted with all of the fine individuals in the School of Management and across the university. I also want to visit each School of Management Advisory Board member at their place of work and get to know them personally. I also want to meet with community leaders and listen to their ideas and plans. Longer term goals include building the brand of the School of Management by engaging students, alumni, and employers in the region and beyond. We have a very strong faculty who are committed to excellence in their teaching and research activities. I want to recognize them and continue to build a culture of transparency, pride, and involvement. Additional goals include growing enrollments, hiring great faculty members, expanding international outreach and opportunities, and building the School of Management endowment which supports students and helps us recruit and retain outstanding faculty.
Are there challenges that you see?
Challenges are always present for any industry. Higher education is no exception. Technology is changing the ways management education is conceived, delivered, priced, and valued. As with many industries, customers are becoming more knowledgeable and empowered. We see this in media, banking, travel, and with traditional storefront retailers. We need to be aware of these changing expectations by students and employers and constantly innovate to meet expectations in this evolving educational marketplace. It is an exciting time in education, and management education in particular, so this is a challenge we will meet with optimism.
How do you feel your background and expertise fits in with the needs of today and the future of SOM?
I have had the privilege to be a marketing professor, a marketing consultant, a department chairperson, and a dean. I have also served on a number of teams for Association to Advance Collegiate Schools of Business (AACSB) International accreditation peer reviews. In this sense I feel I have a good handle on what excellence is in management education. However, I certainly learn new things every day as we all do. I think the important point to remember is that we need to constantly be on guard not to become complacent and self-satisfied as to how we view the world and what we think we know about how things work. There is vast complexity in the world and in human relationships. It is a moving target and this is something that forces us to be humble yet always striving to learn, be productive, and be a positive force for change. The way forward is not always what has worked in the past.
Do you see opportunities to better use technology in and out of the classroom?
We are living through an age of extremely rapid technological change. I think it is difficult to readily perceive the pace of change since we are in the midst of this digital revolution. How we interact with friends, buy and consume goods and services, and spend leisure time, are all completely new compared to only 30 years ago.  It is now difficult to imagine a world without the products and services offered by Google, Dell, HP, Microsoft, Apple, Intel, Amazon, eBay, FaceBook, and others.  New college graduates take for granted that communication is digital and that information travels at the speed of light. In this context, there are tremendous opportunities to embrace this digital revolution in how students learn, how they interact with each other, and how we can help them form supportive networks of people who can assist in their evolving careers. The School of Management is a leader in using technology effectively in its NetPlus! MBA. We also use Blackboard, a digital course management system, that facilitates enhanced learning for both face-to-face and online pedagogical approaches. We will certainly be looking to maximize the value of current technology and the mobile computing advances that are rapidly evolving.
What are your impressions of the campus and the city of Flint?
I like the UM-Flint campus. It is new campus that is compact and has plenty of parking. The facilities in the School of Management in the Riverfront Center are some of the best I have seen. The classrooms are very modern, clean, and well equipped with technology for instruction. There are tiered classrooms and classrooms with flexible flat space for group activities. There are also eight team rooms for student use. A financial lab with scrolling stock quotes and large touch screens offers an inviting entryway into the classroom area. Flint itself has endured some severe downturns in the national and local economy as we all know. However, I am optimistic and eager to see a reemergence of a dynamic business and cultural environment. Each step along that path will add to a snowballing of economic activity that feeds off itself to make a vibrant community.
Contact University Communications & Marketing with comments, questions, or story ideas.