Changes to Crim Races Through the UM-Flint Campus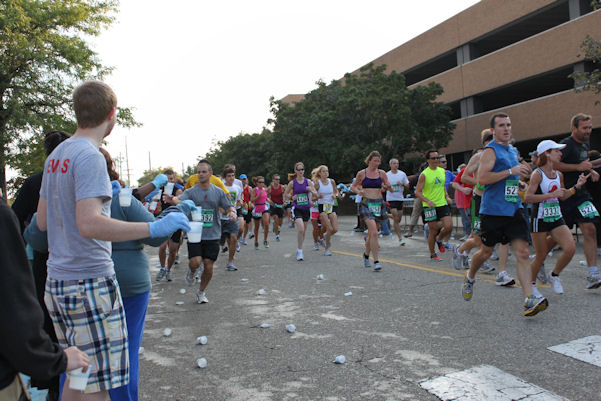 The Crim Festival of Races will once again make UM-Flint a centerpiece of their annual event. This year, a few changes are taking place that will bring even more people through  campus.
The UM-Flint campus tradition of operating a water station with volunteers during the Crime 10-Mile Run will remain. However, there is a new route recently announced for the first two miles of the race. While the location of the water station will remain nearly the same,  the runners will be coming from the opposite direction.
Runners will start at roughly the same spot on Saginaw Street in downtown Flint, but instead of following that street north, participants will go straight on Martin Luther King Avenue, then take a right on University Avenue, come back southeast on Harrison Street, take a left on Kearsley Street on the University of Michigan-Flint's campus, before proceeding to the same route as before. The water station will be located on Mill Street as runners leave the campus.
There is also a change to the UM-Flint sponsored Michigan Mile Race. This year, the race will be run Friday, August 23, the evening before the 10-mile event, with a separate heat for professional racers after a purse of $10,000. UM-Flint runners and walkers are invited to join the campus team to participate in this race. Anyone interested in joining the group should make sure they are registered, and meet at 7 p.m. on August 23rd at the ice rink next to the Pavilion. The Michigan Mile will start at 7:30 p.m. All finishers will be presented with a University of Michigan "Block M" medal.
Registration information for all of the races can be found on the Crim Fitness Foundation website.
If you would like to volunteer to staff the UM-Flint water station on Saturday, August 24, please contact Pam Zemore at 810-424-5485 or by email at pzemore@umflint.edu.
Breakfast will be provided, and volunteers will receive a free Crim t-shirt while supplies last. This is also a great way for students to earn volunteering points.
Volunteers will need to arrive at the Mill Street water station site at 5:45 a.m. for set-up because city streets around campus will be closed at 6 a.m.
After the water is handed out, volunteers are asked to stay for clean-up that is usually complete by about 8:30 a.m.
Contact University Communications & Marketing with comments, questions, or story ideas.