UM-Flint Spring 2013 Commencement Speakers Announced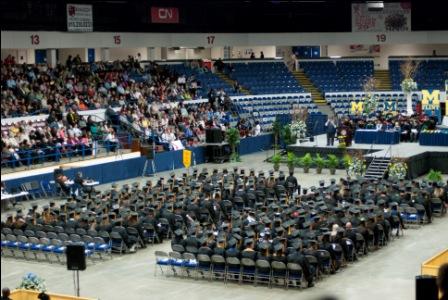 The University of Michigan-Flint's Spring 2013 Commencement ceremonies will be held this Sunday, May 5. We are proud to present the speakers for the two ceremonies, held at 11:00 a.m. and 3:00 p.m.
Zachary Murphy, Student Speaker
Even during high school, Zach Murphy knew that he wanted to study philosophy. From an early age, this search for understanding was instilled in him by his maternal grandfather—not through books and readings, but through the way in which he lived his life. However, Murphy did not know where he wanted to study. By chance, he came to UM-Flint, and since that time he says he has been overwhelmed by the "amazing opportunities and quality caring faculty" on this campus.
Immediately after his first year at UM-Flint, Murphy began serving as a student instructor for Introduction to Logic as well as tutoring for philosophy and math. It was through the philosophy department's recent partnership with the Insight Institute of Neurosurgery and Neuroscience (IINN) in Flint to create the Center for Cognition and Neuroethics (CCN) that Murphy developed a deep interest in philosophy of mind and cognitive science. After the end of an internship through the philosophy department's capstone course, he has stayed on as a research intern at IINN. In addition to these opportunities, Murphy is president of both the philosophy club and the running club. Sponsored by CCN, he and the philosophy club organized the first Michigan Undergraduate Philosophy Conference, which took place last March and drew people from multiple states.
Murphy is graduating with two simultaneous Bachelor of Arts degrees in Honors Philosophy and Mathematics with a 3.99 GPA. In the fall, he will be attending Purdue University, where he has been accepted into the PhD program in philosophy. There he hopes to further develop his interests in philosophy of mind and cognitive science as well as philosophy of logic and the foundations of mathematics. While he has many reasons for studying philosophy and just as many goals, for him one stands out above the rest. He says, "I have seen the understanding and meaning that philosophy has brought to my life. It's hard to not find meaning when asking questions like 'What does it mean to say that I am a thinking, conscious being? How can three pounds of neurons give rise to a conscious experience? What should I do with the consciousness that I have—how should I live my life?' Through my own research, I hope to further explore and deepen this meaning, and through teaching I hope to share this understanding and meaning with others."
Patrick Williams, Student Speaker
After graduating from Flushing High School, Pat Williams enlisted in the military. Upon completing his service, he moved to Muncie, Indiana where he began studying Human Services at Ivy Tech Community College for three years. During those years, he worked as a Child Care Specialist with severely mentally and emotionally traumatized adolescents at the Youth Opportunity Center. It was a secured facility and he managed two units of adolescent males with sexually maladaptive problems and a female pod as well. While employed there, Williams received two awards; Hardest Worker, and Best Team Player. He also volunteered with inner city adolescent youths through his church Urban Light, taught Sunday school, and volunteered at the local homeless shelter. To fill in his spare time, he facilitated substance abuse recovery groups at the Delaware County jail. While completing these activities he began to study martial arts under Sunny Johnson, an 8th Dan black belt who is in the karate hall of fame with Bruce Lee and Chuck Norris. He also trained under various Brazilian Jiu Jitsu instructors as well.
After Ivy Tech Community College, Williams transferred to the UM-Flint and has attended the university for the past three years. During this time, he has worked third shift for two different security companies, worked for Whaley Children's Center, and was recently hired as a substance abuse counselor for the Salvation Army Adult Rehabilitation Center. He has taught Sunday school at the Bridge church and co-facilitated a martial arts ministry program that enabled low-income adolescents and adults to train in various martial arts. During this time Williams was able to connect with various people and minister healthy behaviors into their lives. One specific adolescent had multiple felonies and misdemeanor charges. Williams wrote letters to his probation officer and accompanied him to his court hearing. Since then, this young man has successfully completed the terms of his probation, re-enrolled in high school, wrestled for his high school team, and is currently training at a local mixed martial arts gym.
Williams will continue to train at Gracie Barra Brazilian Jiu Jitsu Academy and start his Clinical therapy Master's program this coming September. After completing his Master's degree, his goals are to provide substance abuse treatment to individuals, families, and groups, while he re-opens another martial arts gym which will focus not only on physical training, but offer tutoring services, counseling, and mentoring as well. Williams has maintained a 3.8 GPA and has served as a tutor to other students who are in the Social Work program. He also has completed a minor in substance abuse counseling.
Kenneth Steibel, M.D. (B.S. '77), Commencement Speaker
Interim President and Chief of Staff, Genesys Regional Medical Center
Dr. Kenneth Steibel, M.D. is a self-described "Flintstone."  Born and raised on the north end of Flint and a graduate of Northwestern High School, Steibel went on to the University of Michigan-Flint. Steibel considers UM-Flint as the launching pad for career in medicine. After earning his undergraduate degree in Biology from UM-Flint, he received a Master's degree in medical mycology prior to completing medical school at Michigan State University's College of Human Medicine.
Steibel returned to Flint and completed a residency in Family Practice at St. Joseph Hospital, now known as Genesys Regional Medical Center. Following his role as chief resident for the Family Practice residency, Steibel joined the medical staff at Genesys and has held many positions in medical staff leadership over the past 22 years, including serving as president of the Genesys medical staff for the past 12 years. Steibel is also a long-standing member of the Genesys Health System Board of Trustees where he served as board chair, and currently chairs the Advocacy Committee of the Genesys Health System Board.  He is the recipient of the Young S. Suh Spirit of Innovation award, which is given to individuals who have demonstrated extraordinary creativity, strategic thinking, and a determination in leading initiatives that help make the community a better, healthier place for everyone.
Throughout his distinguished career, Steibel has remained a full-time Family Physician in private practice in Fenton. He says, "I want to have the unique opportunity to grow old with people and share in their life story."  It is very clear that he has devoted his life to improving the health and wellbeing of the people in this community.  For the last few years, he has focused his energy on ideas and concepts that will bring local and regional health care systems and educational partners together to create a new local and regional economy.
Steibel is married to his high school sweetheart, Linda and together they raised three wonderful children right here in this community. Steibel is honored to address the University of Michigan- Flint class of 2013.
U.S. Congressman Dale E. Kildee, Commencement Speaker and Honorary Degree Recipient
United States Congressman Dale E. Kildee is the recipient of an honorary Doctor of Laws degree from the University of Michigan.
Throughout a long career in the state Legislature and the U.S. House of Representatives, U-M alumnus Kildee has displayed courage, integrity, a strong work ethic and a commitment to bipartisanship. He advanced educational reform, stood up for the domestic automobile industry and Native Americans, and championed the rights of American workers.
Born in Flint, he earned a Bachelor of Arts degree in 1952 from the Sacred Heart Major Seminary in Detroit, and a teaching certificate in 1955 from the University of Detroit Mercy.
His political career began with his 1964 election to the state House of Representatives, where he served until 1974. He was elected to the state Senate in 1974 and the U.S. House of Representatives in 1976. After 36 years in Congress, he chose not to run for re-election in Michigan's 5th Congressional District in 2012.
Kildee has been a loyal friend to the university, especially UM-Flint. Many students have gained valuable experience as interns in his offices. He also secured federal funding for important initiatives, including a 2008 Department of Health and Human Services grant that helped train UM-Flint students for health professions.
Always conscientious of his voting responsibilities, Kildee rarely missed a roll call vote. He maintained a 99.9 percent voting attendance record, the highest of anyone in the House of Representatives.
Contact University Communications & Marketing with comments, questions, or story ideas.