UM-Flint Nursing Students Mentor Area High School Students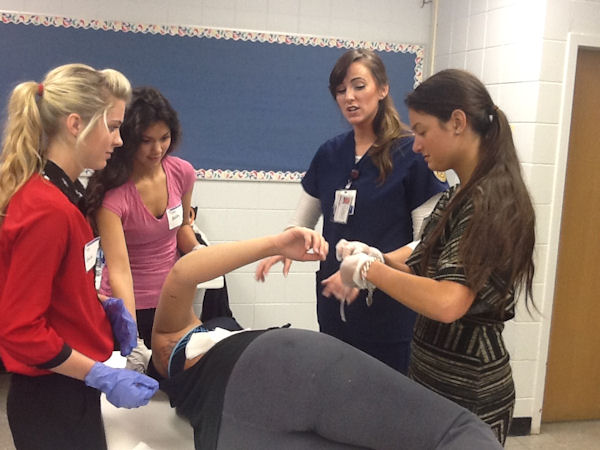 Eunice Muriu's nursing students recently took some time out of their own class schedule to share some of what they learned with area high school students at Hurley Medical Center.
Muriu RN, MSN has been involving her students in the high school teaching program for the past three years. In the Winter Semester the nursing students teach Grand Blanc High School students. In the fall, they teach Carman Ainsworth High School students.
"At least 40 of our students are involved each semester," said Muriu. "We focus on the role of a nurse and nursing care, while also sharing how patient care involves collaborating and partnering with other health care workers."
More than 100 Grand Blanc High School Students attended the most recent session. All of the high school students have a desire to pursue health professions in the future.
"Our goal is to serve the community and reinforce the valuable role of the nurse," said Murie. "Our long standing partnership with Hurley Medical Center provides the ideal venue for this educational experience."
Contact University Communications & Marketing with comments, questions, or story ideas.