UM-Flint Student Moves from Drum Beat to Heart Beat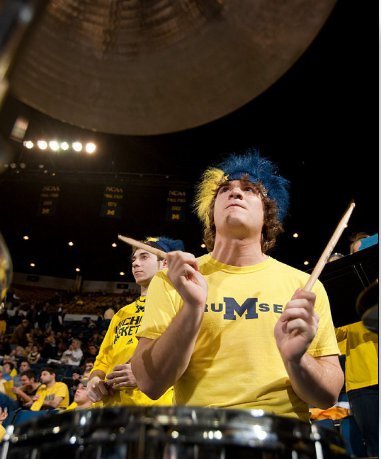 Flint native and UM-Flint nursing student Jonathan Kirbitz has a special seat at the Georgia Dome for tonight's NCAA Championship, where he'll be beating the drum for the Wolverines—literally.
In 2011, Jonathan graduated from UM-Ann Arbor with a bachelor's degree in Cell/Molecular Biology and a minor in Music. While studying in Ann Arbor, he played in the U-M Marching Band Drumline for four consecutive years.
"After I graduated, I moved back home to Flint (to save money) and started taking nursing pre-requisite courses while continuing to play in the basketball band as a guest student. Every Tuesday evening I drove down to Ann Arbor for rehearsal as well as for all of the home games on the roster. I did the same this year despite the grueling schedule of the accelerated nursing program, but now I can say that it was all worth it."
Jonathan is  the only person participating from the Flint campus in the drum ensemble accompanying the Michigan Wolverines.
When Jonathan contacted Professor Margie Murray-Wright asking to be excused from his nursing clinical experiences to travel to Atlanta, she replied, "This is an amazing opportunity. We are proud to have you represent us at the Final Four and the Championship Games."
Jonathan replied, "I love it down here in Atlanta. I just got back to the hotel and believe it or not, I'm actually working on my patient care plan."
"Jonathan's  passion for and commitment to drumming  are the same qualities that will make him a good nurse – dedication, team work, commitment, and the  desire to be a part of something  that's bigger than  himself, " said  Margaret Andrews, Director of the Department of Nursing. "It's nice to see this multi-talented young man excel in both music and nursing."
Contact University Communications & Marketing with comments, questions, or story ideas.