"Mama Juggs" Comes to UM-Flint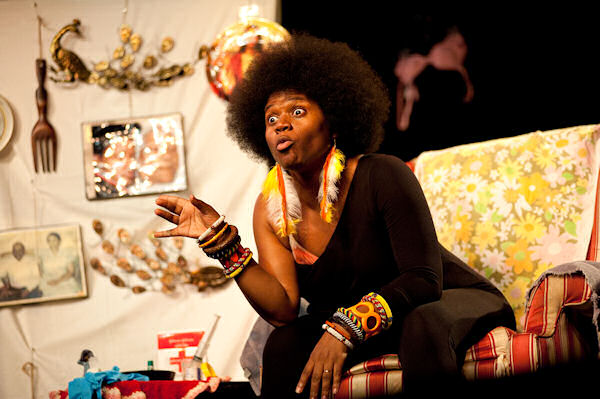 Mama Juggs is an intimate performance about women's health, motherhood, and living with breast cancer that was inspired by true stories from the playwright's life.
Anita Woodley will bring her award-winning play to the University of Michigan-Flint Kiva auditorium in the Harding Mott University Center on Thursday, April 11, at 6:00 p.m.
Mama Juggs channels the voices of three generations of African American women within her family as they struggle with bra stuffing, breastfeeding, and last-stage breast cancer. Woodley wrestles with these issues through a diversity of theatrical styles, including a cappella negro spirituals, comedy, straight talk, improvisation, and audience interactions. She plays three different characters without the help of costume changes or scene breaks.
Woodley, based in Chapel Hill, was named the 2012 Emerging Artist in Drama by the Durham Arts Council. She is a national-award-winning journalist and former producer for public radio's "The Story" with Dick Gordon. She recently stepped away from her journalism career to focus on performing full-time. Mama Juggs has been warmly received by audiences across the U.S. Written as a promise to her mother – who died of breast cancer before 50 – it seeks to challenge cultural taboos and stereotypes surrounding breast health and body image. By raising both money and social consciousness, it's designed to contribute to the winnable campaign against breast cancer.
Sponsored by the University of Michigan-Flint Diversity Council, the event is free and open to the public. For more information, contact Diversity Education Services at (810) 762-3169.
Contact University Communications & Marketing with comments, questions, or story ideas.