UM-Flint Professor Mojtaba Vaziri, Ph.D. Receives Distinguished Professor of the Year Award

University of Michigan-Flint Professor of Physics and Engineering Mojtaba Vaziri, Ph.D. has been selected to receive a Distinguished Professor of the Year Award by Presidents Council, State Universities of Michigan.

The award recognizes the outstanding contributions and dedication made by faculty from Michigan's 15 public universities to the education of undergraduate students. Each university nominated a faculty member who has had a significant impact on student learning through various mediums, including work in the classroom, through their research, advising, and mentoring. Professor Vaziri was one of three selected.
"I was delighted to learn that this outstanding faculty member was not only nominated but selected for this achievement award. His selection speaks well for him personally, as well as for our campus," noted UM-Flint Chancellor Ruth J. Person.
Executive Director, Presidents Council State Universities of Michigan Michael Bolus said, "The Michigan Distinguished Professor of the Year recognition marks a highlight in the professional lives of our faculty among the fifteen Michigan public universities."
UM-Flint Provost Gerard Voland, who nominated Vaziri for the award, said, "I am so very pleased that first of all Dr. Vaziri is a faculty member at the University of Michigan-Flint and secondly, that he has been recognized in this way as one of the best professors in the state. This award is extremely well-deserved."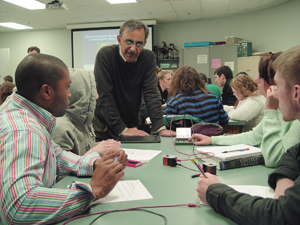 One of those who wrote a letter of recommendation for Vaziri for the award was D. J. Trela, dean of  UM-Flint's College of Arts and Sciences. In his letter, Trela wrote, "My pride in Dr. Mojtaba Vaziri's selection as Professor of the Year is only matched by my pride in a college and university that value excellence in teaching and learning alongside our commitments to scholarly and creative achievement and engaged service. Mojtaba's commitment to his students is embodied in everything he says or does at UM-Flint. He has helped forge a department culture that is student-centered, he has focused on program development that has benefited new populations of students, particularly in engineering and computer science, and he has proven a tireless advocate for more resources in support of students and faculty."
It is not only university administrators who admire Vaziri's teaching abilities. It is the praise he received from current and former students that is perhaps most meaningful. A former student recently wrote, "You are a true teacher, which is rare in professors. I felt every class you taught in a way that was grounded in understanding. Thank you for a wonderful experience."
Vaziri's teaching philosophy is built on a firm belief of creating a challenging, student-centered environment within which students are actively engaged in the learning process.
"I strive to provide knowledge and guidance in an enthusiastic manner, thereby promoting a positive learning experience for my students," said Vaziri. "I truly believe that the process of science cannot be learned by reading, listening, memorizing, or even problem-solving. Effective learning requires active engagement."
Contact University Communications & Marketing with comments, questions, or story ideas.