Flint's Local Colleges Ready for 4th Annual Recycling Challenge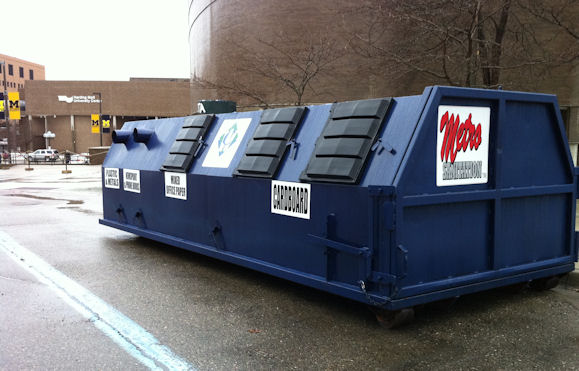 While each has its own school colors, Baker College, Kettering University, Mott Community College, and the University of Michigan-Flint will each try to prove they're the greenest during the College Recycling Challenge, March 1st through March 31st.The purpose of the event is to increase awareness about recycling in our community. Students, faculty, staff, and community members are encouraged to bring acceptable assorted recyclable materials to the local recycling drop off centers at any of the four schools.
Two awards will be presented to the winners of "Most Pounds per Student" and "Most Total Pounds of Recyclables Overall per Campus." The winners will be announced at the Earth Day Celebration on Saturday, April 13, from 10 a.m.– 3 p.m. at the Harding Mott University Center at UM-Flint.
"Since there is no curb-to-curb recycling pick-up in the downtown Flint area where my roommates and I live, we store our recyclables in our basement until each March to support our community challenge, and of course, try to help our school win," said UM-Flint student Suzy Limberg.
Clean plastic containers numbered 1 through 7, aluminum cans, steel cans, and small scrap metal are all acceptable. Mixed papers, such as newspaper, junk mail, office paper, cardboard, phone books, paperback books, magazines, and shoe boxes, can also be brought to the receptacles. Glass and Styrofoam will not be accepted.
Last year, Kettering University took the award for the Most Pounds per Student, while Baker College won for Most Total Pounds of Recyclables. Kettering was a close second, only 841 pounds away from taking both awards.
This year's event is sponsored for the second consecutive year by Great Lakes Recycling, Brent Run Landfill/Waste Connections Inc., and Metro Sanitation, a local transportation company.
If you have any questions, contact the UM-Flint Environment, Health, and Safety Department at 810-766-6763, or visit  http://www.mcc.edu/earthday/earthday_recycle.php.
Contact University Communications & Marketing with comments, questions, or story ideas.