UM-Flint Selects Distinguished Professor of the Year Nominee
Professor of Physics and Engineering Mojtaba Vaziri, Ph.D. is the University of Michigan-Flint campus' 2013 nominee for Distinguished Professor of the Year Award.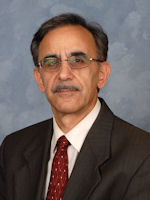 The award is made by the Presidents Council, State Universities of Michigan.  A central mission of all 15 Michigan public universities is the provision of high quality undergraduate education. The Michigan Distinguished Professor of the Year program recognizes outstanding faculty contributions to undergraduate instruction. The Presidents Council annually hosts an awards ceremony to recognize all nominated faculty and announce the three candidates selected Distinguished Professors of the Year.
Each nominee will receive a Presidents Council Plaque. In addition, the three choices for Professor of the Year will receive $3,000 to be funded by the President's Council. The awards ceremony will take place in early April. Vaziri was nominated by Provost Gerard Voland.
D.J. Trela, the dean of the UM-Flint College of Arts and Sciences wrote about Vaziri, "If you truly want to succeed at UM-Flint, this is your example. Here is your guide. Observe closely the talents, abilities, and dedication of this individual, apply them to yourself, your discipline, the communities we serve, and you, too, will be numbered among UM-Flint's finest." He went on to write, "For UM-Flint, that person is Dr. Mojtaba Vaziri, professor of physics and engineering. He is a teacher, mentor, scholar, colleague, and friend."
"It is an honor to be the University of Michigan-Flint's nominee for Professor of the Year," said Vaziri after learning about receiving the nomination. "I take a great pride in my work and the recognition is truly appreciated. It was a nice surprise and I am very grateful for it."
Contact University Communications & Marketing with comments, questions, or story ideas.