UM-Flint Theatre Alum to Work on Metropolitan Opera Productions
In February, recent UM-Flint Theatre alumnus Ben Motter ('12 B.S. Theatre Design and Technology) is heading to New York City's Lincoln Center to begin his new job as Technical Projects Manager for The Metropolitan Opera.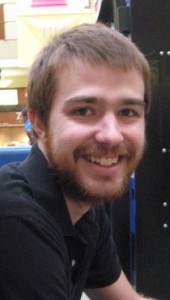 After preliminary screenings, a Skype interview, and a handful of visits to NYC, he was offered the newly created position with The Met, and will join the venerable opera house for its 129th season.
Each season, The Met presents over 200 performances from its existing repertoire, as well as six new productions. In his new role, Motter will work on a multitude of technical duties, including facilitating installations of the existing repertoires, archival research, and ensuring the scenery is in proper condition to make the journey from its New Jersey storage facility to the stage. In addition, he will take the design lead on one to two of the new productions. From conception, to load-in and setup, to rehearsals and opening night, he will oversee it all.
When asked to name a specific college experience that influenced him, or a certain faculty member who was instrumental in his development, Motter is hard-pressed. Instead, he credits his accumulative learning experiences at UM-Flint for preparing him for his new career.
"There really were so many intangible learning experiences that I couldn't name just one," he said. "All of my professors encouraged me to do more, to try something new, and to take a path of thinking and problem solving that lead me to this job."
Contact University Communications & Marketing with comments, questions, or story ideas.