UM-Flint Commencement Student Speaker December 2012
"What do I want to be?" This question that many college students ask themselves was answered for Ghada Alkiek while interning in Washington D.C. as a member of the Michigan in Washington Program.
Alkiek, who is graduating with a degree in General Business and a minor in Political Science, recalls that while walking down the steps of Capitol Hill with a leading lobbyist from the Women's National Democratic Club in Washington D.C., hundreds of elected officials started hurrying past them from every direction. "I walked with her as she retraced her steps, talking to members of Congress. I felt a sense of excitement as I observed the democratic process in action. I recognized right away that I wanted to be part of this process in the future."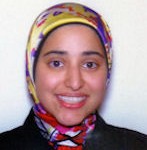 Alkiek has prepared herself well to take on that challenge. She attended Genesee Early College, and after graduation, attended UM-Flint where she was accepted into the Honors Program. Besides maintaining a 3.75 GPA, she found time to volunteer more than 2,000 hours in a variety of activities. Alkiek has helped build beds for the Boys and Girls Club, volunteered numerous times at the North End Soup Kitchen and dedicated many hours to volunteering with the Genesee County Habitat for Humanity chapter in Flint. This past summer, she took her coordinating skills to a new level. She organized the Day of Dignity event in Flint, which was coordinated with a national organization to help fund the project. For several months, she partnered with the Flint Housing Commission to collect food, clothing, hygiene kits, school kits, toys, food, and much more for local shelters in Flint.
Alkiek also managed to find time to participate in student organizations. The Muslim Student Association, College Democrats, and Do Something Flint are only a few organizations that kept her busy.  In 2011, Alkiek and a few friends helped found the Students for Human Rights organization on the UM-Flint campus.  It was a great experience for them to get together and educate students on their basic human rights.
Alkiek believes that her education at the University of Michigan-Flint has made all the difference. The experience while in Washington D.C. of doing research for writing her Honors Thesis, and other opportunities, have been strong forces in her life. After graduation, she is planning on moving to Washington D.C. to work for Congressman Dan Kildee, and hopes to go on to complete a Master's of Public Policy.
Contact University Communications & Marketing with comments, questions, or story ideas.