Claressa Shields Event to Benefit Community and Food Bank of Eastern Michigan

At the age of 17, she made boxing history during the 2012 Summer Olympics. Claressa Shields was the first American to win Olympic gold in Women's Boxing.
Since returning from the Olympics, the Flint native has been on a whirlwind tour speaking to groups, media, and appearing on a variety of TV talk shows.  She has become a role model for thousands of young people, proving that hard work and dedication can take you to the top.
On Wednesday, November 14, 6-8 p.m., at the Riverfront Banquet Center in downtown Flint, Claressa will share her inspirational story during a program that will also help "knock out hunger." The American Business Women's Association (ABWA), Food Bank of Eastern Michigan, and the University of Michigan-Flint are joining together to help fight hunger. Students and the public are urged to bring at least one non-perishable food item for admission to Claressa's presentation.
"Crossroad Connection Chapter of the American Business Women's Association is pleased to co-sponsor an appearance by Olympic Gold Medalist Claressa Shields. As the first-ever women's Olympic Middleweight Champion, Ms. Shields shattered a glass ceiling at the age of seventeen," said Mary Jo Sekelsky, UM-Flint Vice Chancellor for Student Affairs and President of the Crossroad Connection Chapter. "Since 1949, ABWA has provided opportunities for women to grow personally and professionally through leadership, education, and networking. It is with great pride ABWA salutes the accomplishments of Ms. Claressa Shields."
The Food Bank of Eastern Michigan networks with 417 agencies in 22 counties to provide 20.5 million pounds of food annually. This provides about 50,000 meals each week to those in need.
"The Food Bank of Eastern Michigan is thrilled to be part of Claressa Shields' speaking engagement. The Food Bank recognizes our youth as our most vulnerable recipients of our various programs. At the same time, the youth will become our next generation of philanthropists," noted Mary Clark, Development Coordinator of Food bank of Eastern Michigan. "Ms. Shield's influence in the community gives hope to our young people who are struggling, and encourages youth who can to make a difference."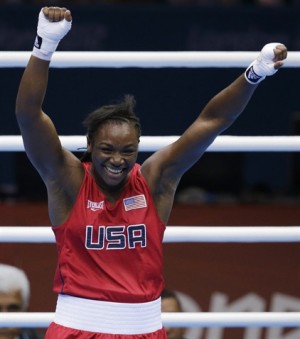 Following her presentation, Shields will be available to meet and sign autographs.
Baker College, Kettering University, Mott Community College, UM-Flint Women's Educational Center, UM-Flint Student Government, UM-Flint Office of Educational Opportunity Initiatives (EOI) and ProEx Site Development Contractors have also joined to sponsor the event.
For additional information call 810-762-3434.
Contact University Communications & Marketing with comments, questions, or story ideas.