Memorial Bike Ride to Honor UM-Flint Theatre Professor Stephen Landon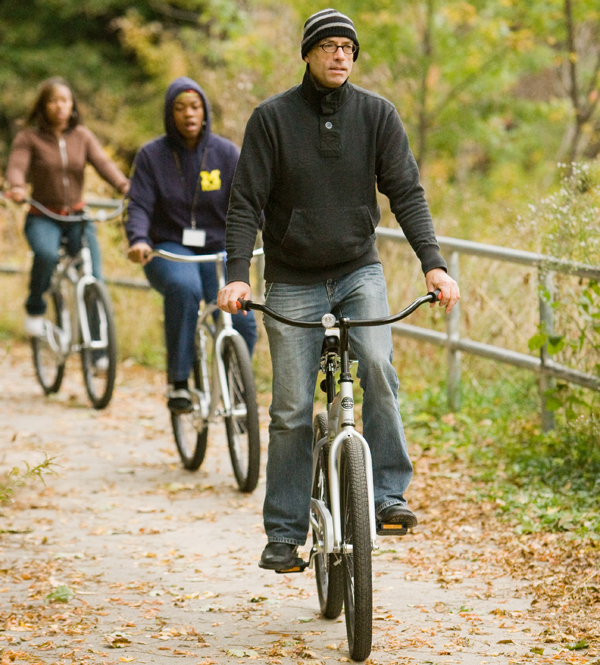 Ride by Design, is a memorial bike ride to celebrate the life and legacy of University of Michigan-Flint Associate Professor Stephen Landon, who passed away unexpectedly in July. 
Landon was heavily involved in the Flint community and worked with others to improve and promote bicycle use and the Flint River Trail.
The bike ride takes place Sunday, October 28 from 11 a.m. to 1 p.m.; registration begins at 10:30am in the UM-Flint Theatre lobby, 303 E. Kearsley St. The five-mile bike ride will take place along the Flint River Trail; registration is $20 non-students and $10 students, with all proceeds going toward the Stephen D. Landon Memorial Endowed Scholarship Fund.  Light refreshments and fruit will be provided.
Landon was an Associate Professor of Theatre at UM-Flint, teaching introductory and advanced Theatre Design courses, as well as Scenic Painting, Modernism and AutoCAD. He was the resident scene designer for numerous productions both on campus and with regional theatres throughout Michigan, Wisconsin and South Dakota.
The Stephen Landon Memorial Endowed Scholarship Fund was established by his family to honor his memory and his contributions to the university. The scholarship assists students pursuing a Bachelor of Science degree in Theatre Design and Technology. All contributions are tax deductible.
A Facebook page has been created for the event: http://www.facebook.com/events/449580328427715/
Contact University Communications & Marketing with comments, questions, or story ideas.