UM-Flint Chemistry Club Continues Winning Tradition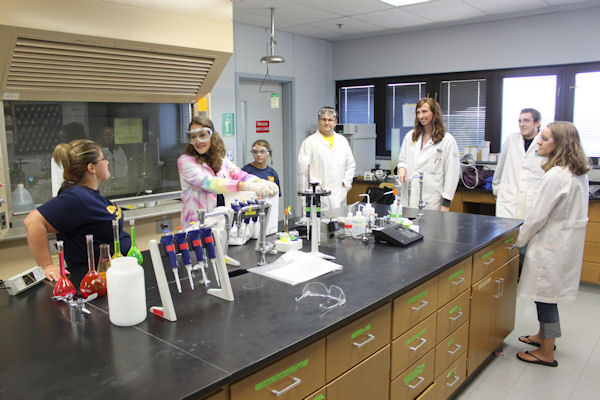 The University of Michigan-Flint Chemistry Club has again received the highest student chapter recognition from the American Chemical Society (ACS).

The club has been selected for an Outstanding award for the fourth time (this was the third consecutive year), and the 11th ACS recognition since 2002.
The ACS recognizes successful student chapters for conducting exceptional programs and activities during the academic year. Awards are given in three categories: outstanding, commendable, and honorable mention.
"We have diversified and grown greatly in the past year by hosting new events, attracting new members, and being focused on our community and its needs," said UM-Flint Chemistry Club President Caitlin McCarthy. "We have surpassed any expectation that I had as a returning president and I have the same hopes for this upcoming year."
"I am so very proud of the club and its members. They are a very dedicated group of students who devote a lot of time and energy to making sure our events are successful as well as fun for the members," noted Chemistry Club Faculty Advisor Jessica Tischler. "In my opinion, the individual members are also 'Outstanding!'  They do an awesome job representing UM-Flint in our community and in the chemistry profession."
The 2011-12 award winning chapters will be recognized in the November/December issue of inChemistry magazine and at the ACS Student Chapter Award Ceremony that will be held at the 245th ACS National Meeting in New Orleans in April.
Laboratory Supervisor Monique Wilhelm is a club co-advisor with Tischler.
Contact University Communications & Marketing with comments, questions, or story ideas.