UM-Flint Debuts Bicycle Road Skills Course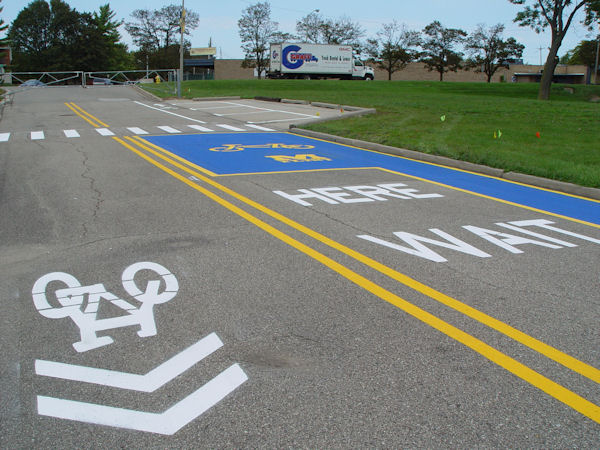 UM-Flint has a new Bicycle Road Skills Course designed to educate users about basic bicycling skills and safety techniques before one takes his or her bike on major roads.
The course will make its official debut Saturday, Sept. 29 from 11a.m. to 3 p.m. on the corner of Robert T. Longway Blvd. and James P. Cole Blvd. Parents, children, and community members are invited to bring bicycles and helmets to experience the course.
The debut of the Bicycle Road Skills Course is concurrent to the "Touch-a-Truck" public safety event scheduled for the same time in the W.S. White Building parking lot at the intersection of Saginaw Street and Fifth Avenue. Both events are free and open to the public.
The Bicycle Road Skills Course, which will be a permanent part of the campus, is believed to be the first of its kind installed on a college campus.
"It's exciting to offer basic bicycling skills and safety tips to the campus and community," said Walk and Bike Program Intern Ali Harris. "UM-Flint is always looking for exciting ways to encourage a 'Go Blue, Live Greener' lifestyle, and thanks to SAGE, Fleis & Vandenbrink Engineering, M & M Pavement Marking Inc., and various members of our group, this is a perfect way to do just that. We are delighted to be one of the pioneering colleges to offer this type of opportunity."
The course includes several bicycling features such as bicycle lanes, sharrows, various other traffic symbols, cross walks, a parallel parking lane, and a bike box. During the demonstration, a vehicle and several pedestrians will be on site to help bicyclists understand how to share the road and look out for potential hazards. Users will have the chance to win prizes and will receive a free informational booklet related to proper bicycling.
"We want to educate the campus community and the public of the various bicycle infrastructures that one might experience as a bicyclist, pedestrian, or driver," said Earth and Resource Science Assistant Professor Greg Rybarczyk, Ph.D. "Education is a key component to increasing levels of bicycling and walking, and this course will serve to facilitate this by providing a safe environment for learning essential bicycle skills and promoting confidence before cycling in your own neighborhood."
The skills course will be used by the Crim Fitness Foundation, UM-Flint faculty, staff, and employees, and the public when skills training classes are offered on campus. Rybarczyk will use the skills course in his Sustainable Transportation class during the winter 2013 semester as a teaching tool where students will use the university's free bikes to learn how to safely bike on and off campus, and explore ways to further improve urban mobility.
For more information on the Bicycle Road Skills Course contact Ali Harris by emailing amisner@umflint.edu or go to the UM-Flint Walk and Bike Work Group website.
Contact University Communications & Marketing with comments, questions, or story ideas.