National Weather Service Identifies UM-Flint as a "StormReady Community"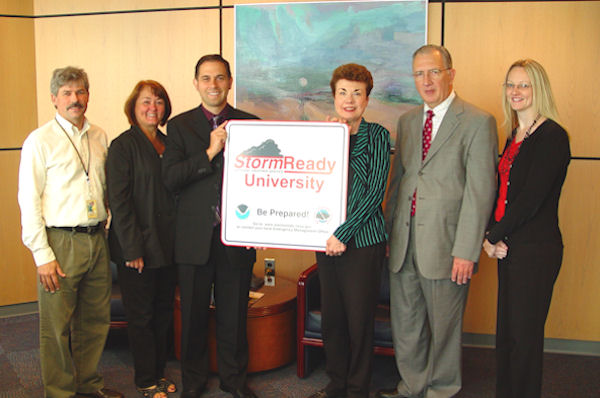 The University of Michigan-Flint has received recognition from the National Weather Service (NWS) naming it among the agency's "StormReady" communities.
Richard Pullman, warning coordination meteorologist at the NWS weather forecast office in White Lake, recently presented Chancellor Ruth J. Person with signage to be placed around campus that indicates UM-Flint is a "StormReady" university.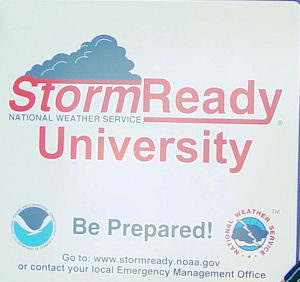 "StormReady arms communities with improved communication and safety skills needed to save lives and property–before and during the event," said Pullman.
To be recognized as StormReady, a community must, among other things:
– establish a 24-hour warning point and emergency operations center
– have more than one way to receive severe weather forecasts and warnings and to alert the public
– create a system that monitors local weather conditions
In June of 2011, as part of qualifying for the designation, a large number of UM-Flint faculty and staff received special training to be SKYWARN spotters. UM-Flint's Environment, Health, and Safety Department hosted National Weather Service trainers, Karen Clark and Phil Kurimski, to conduct two SKYWARN classes. Forty faculty and staff received the training, including employees from Facilities and Operations, Events and Building Management, Recreation Services, Northbank Center, and the Public Safety Department. Representatives from community organizations also attended.
The subject matter covered in the class included how thunderstorms develop, storm structures, potential severe weather features, and how to properly report to the weather service. Special instruction was also given on severe weather safety.
"This designation by the National Weather Service recognizes the university's on-going preparedness planning to protect the students, faculty and staff in weather related emergencies," noted Chancellor Person.
UM-Flint Emergency Preparedness Coordinator Gail Phelps said the StormReady program has led to more collaboration between the university and other community agencies.
Contact University Communications & Marketing with comments, questions, or story ideas.