UM-Flint Named a "Best In The Midwest" by The Princeton Review for 11th Consecutive Year
For the 11th consecutive year, the University of Michigan-Flint has been selected  as one of the best colleges in the Midwest according to the nationally known education services company, The Princeton Review. 
UM-Flint is one of 153 institutions The Princeton Review recommends in the 'Best in the Midwest' section of its website feature, "2013 Best Colleges: Region by Region," published August 20, 2012 on PrincetonReview.com.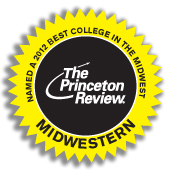 "We're pleased to recommend UM-Flint to users of our site as one of the best schools to earn their undergrad degree. We chose it and the other terrific institutions we name as 'regional best' colleges mainly for their excellent academic programs," says Robert Franek, Princeton Review's Senior VP / Publisher. "From several hundred schools in each region, we winnowed our list based on institutional data we collected directly from the schools, our visits to schools over the years, and the opinions of our staff, plus college counselors and advisors whose recommendations we invite."
"Our selection again by the The Princeton Review as a 'Best in the Midwest' university shows a continuing commitment by our dedicated faculty to providing our students with a quality education," said Chancellor Ruth J. Person.
UM-Flint students reported their campus experiences in an 80-question survey for The Princeton Review. Only schools that permit an independent survey of their students are eligible to be considered for their regional 'best' lists.
The 153 colleges that The Princeton Review chose for its 'Best in the Midwest' list are located in twelve Midwest states.
Contact University Communications & Marketing with comments, questions, or story ideas.