Citizens Bank and UM-Flint Form New Internship Program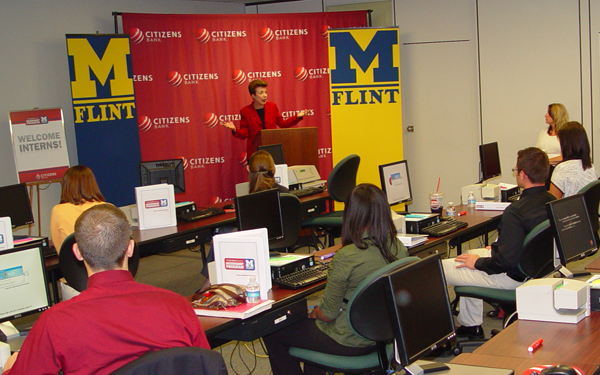 University of Michigan-Flint students have a new opportunity to immerse themselves in various aspects of the banking industry thanks to a unique internship program with Flint-based Citizens Bank.
Citizens Bank and UM-Flint have started a summer internship program under which students will go through rigorous training at the bank. A number of students recently went through an intensive interview process to be selected for the two-year internship program. Ten students were chosen for the program's first year. The students represent various majors including Accounting, Finance, International Business, and Marketing.
"The first thing I see when I look out my office window each morning is Citizens Bank," said UM-Flint Chancellor Ruth J. Person. "This program is the bridge that brings our two great institutions even closer. From this new relationship will grow a unique learning opportunity for our students."
"The University has been a terrific partner in developing this custom internship program. Citizens Bank is looking for students who have the potential to be future leaders in our company and are interested in joining the Citizens team after their graduation," said Cathy Nash, Citizens' President and CEO.
The internship program began May 14, and continues to September 1. Students will first gain frontline experience working in a branch setting, and will have the opportunity to participate in professional development activities including meeting with the program executive sponsor and other Citizens executives.
"This is no ordinary internship program. It is more of a partnership with Citizens Bank, and we are deeply grateful to the bank for making it possible," said Vahid Lotfi, senior vice provost and acting dean of the School of Management.  "The design of this two-year program has been very thoughtful and intentional, enabling our students to explore a variety of career opportunities in banking at a relatively early stage in their college life."
Most of the students who were selected had customer service positions in the past, and were involved in volunteer activities at organizations such as Boys and Girls Club, Humane Society, Carriage Town Ministries, and campus groups such as Theta Phi Alpha, Greek Council, peer tutoring, etc.
"They are all excited for this opportunity to grow and learn from the very best in the finance sector," said Yener Kandogan, associate dean of the School of Management. "I think this is a great learning experience for our students. Companies nowadays are looking for more than students with good academic preparations. Those students that had practical experiences such as this kind of internship program move to the front of the line in finding meaningful career jobs after graduation."
Contact University Communications & Marketing with comments, questions, or story ideas.