New L.E.D. Lighting Saving Planet and Energy Costs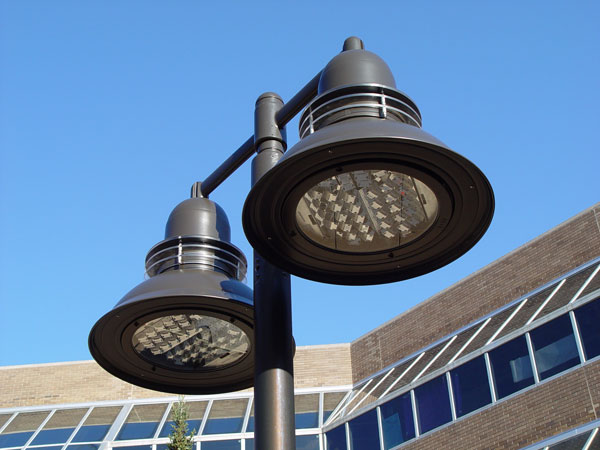 The University of Michigan-Flint is investing in cost-savings and energy-efficiency by replacing more campus lighting with L.E.D. (light-emitting diode) lights.
Recently, the large glass sphere lights in McKinnon Plaza where replaced with new bell-shaped LED lights.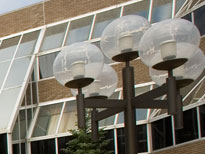 The plaza will have six double lights and nine single light poles.
"The new lights are dark-sky compliant. They provide all down lighting, and no light pollution," said Tim Jagielo, UM-Flint Facilities & Operations electrician.
Besides the energy savings of over 50%, Jagielo expects much less need for maintenance over the next ten years.
The old lighting has also been replaced in the University Pavilion (UPAV) parking ramp as well.
The estimated savings for lighting McKinnon Plaza is about $6,000 per year, and total $18,000 per year for the UPAV ramp. Another proposed project of replacing library lighting would mean an addition $22,000 in annual savings. Consumers Energy is also offering financial incentives to switch to energy-efficient lighting.
According to Tim Barden the Facilities & Operations assistant director, Parking Lot A and the surrounding sidewalks will be the next areas on campus to get updated lighting.
Contact University Communications & Marketing with comments, questions, or story ideas.