Flint Colleges Compete in Recycling Challenge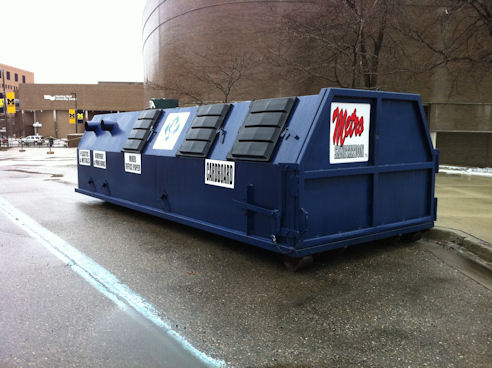 Four local colleges will be competing in the third annual Recycling Challenge.  The University of Michigan-Flint, Mott Community College (MCC), Kettering University, and Baker College will encourage recycling on their campuses while making it a fun and friendly competition.
The Recycling Challenge will be the same as last year's competition in that the recycling trailer—or "roll-off" container—will be available to accept recyclables on each of the four campuses throughout the entire competition, from March 1 to March 31.
This year's sponsors are Brent Run Landfill: a Waste Connections Company, and Great Lakes Recycling. Brent Run Lanfill is providing the recycling containers and transporting the recyclable material to the Great Lakes Recycling facility in Flint Township, MI. The material will be sorted, weighed and sent to end markets for reuse. Dan Gudgel of Waste Connections says, "Waste Connections and Brent Run Landfill believe strongly in environmental stewardship and sustainability. This contest is a great way for our company to get involved and give back. We count it an honor and privilege to help raise awareness about recycling in our community".
UM-Flint's Lora Rometsch, a co-coordinator of the event, says, "We are really excited about participating in the Recycle Challenge for a third year. The second year was bigger than the first, so expectations for this year are high!" The money collected at their campus was provided to the student organizations that help promote environmental sustainability on and off campus.
Nadine Thor of Kettering University (winner of the Recycling Challenge for pounds per student 2 years in a row) stated, "Since the inception of this event, it is a pleasure for Kettering University to continue its reign as Recycling the Most Pounds per Student." The money that their campus won from Waste Management on September 27th, 2011 has been used for additional recycling activities on campus.
Rebecca Gale-Gonzalez, co-coordinator of the Earth Day Celebration and Green Initiatives Team member for Mott Community College says, "The recycle challenge has grown to include the community at large, and as we continue to strive toward recycling at our colleges we are serving to educate the public. I'm proud of this program and the students' involvement. This year should be bigger and better and more competitive than ever."
Matt Bohlen, Admissions Advisor at Baker College says, "Our campus thoroughly enjoys the recycling competition. Some of us do not have the resources to recycle EVERYTHING that we want. The competition gives us an opportunity to recycle those items, as well as represent Baker College. At one point during the competition, I sent an e-mail to the campus stating that we had saved nearly 200 mature trees and 100,000 gallons of water. We loved that."
Holly Lubowicki of Keep Genesee County Beautiful is involved with the planning committee. She says, "We hope this event sparks people wherever they live to either begin recycling or recycle more items than they currently do."
Two prizes will be awarded: one prize will go to the college that recycles the most materials by weight, and the other prize will go to the college that recycles the most pounds per student enrolled. The two winners will split the prize money generated from the rebate received from the materials collected and recycled. The winners will be announced at the annual Earth Day Celebration, on Saturday, April 14, from 10 a.m. to 3 p.m. hosted at the University of Michigan-Flint. For more information on the annual Earth Day Celebration, please visit the website at www.earthday.mcc.edu or call (810) 766-6763.
Contact University Communications & Marketing with comments, questions, or story ideas.