New Water Fountains Help Discourage Use of Plastic Water Bottles at UM-Flint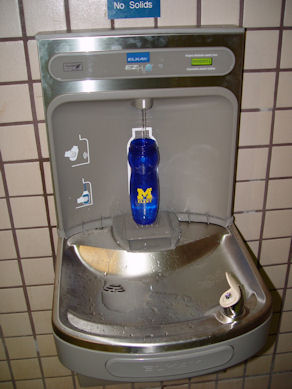 Inspired by a proposed ban on plastic water bottles being urged by U-M Student Government in Ann Arbor, new water fountains with a special feature are being added to the UM-Flint campus.UM-Flint Student Government Vice President Albert Lee researched the growing concern over the use of plastic water bottles.
"Thirty eight billion water bottles go into landfills each year-more than $1 billion worth of plastic. And according to Food and Water Watch, 17 million barrels of oil—enough to fuel a million cars for a year—are needed to produce the bottles sold in the U.S. annually," noted Lee. "My research also found that cities around the nation are deciding to ban the sale of plastic water bottles."
To come up with an alternative to the bottles, Lee worked with Tim Bardin in Facilities and Operations to consider drinking fountains with a water bottle refill feature. It was quickly decided to install two units-one of them located in the 1st floor University Pavilion (UPAV), and another one will be installed in University Center on the 3rd floor.
Reaction from students to the new,  filtered water, hands-free fountains has led to a decision by Student Government to add two additional units. The new fountains will be located in the Recreation Center and on the 1st floor of the Murchie Science Building (MSB).
Lee says that the next step is to meet with Dining Services to reduce the amount of plastic water bottle sales on campus, "The first year we are proposing a 25% reduction in plastic water bottle sales, and slowly increase it on an annual basis. This way it would not be an immediate effect on students and we can slowly transition more water fountains as well."
Student Government want to also meet with machine vending companies on campus who sell plastic bottled water to discuss alternatives.
Contact University Communications & Marketing with comments, questions, or story ideas.