Program to Help Flint H.S. Students Enter Health Professions Receives Grant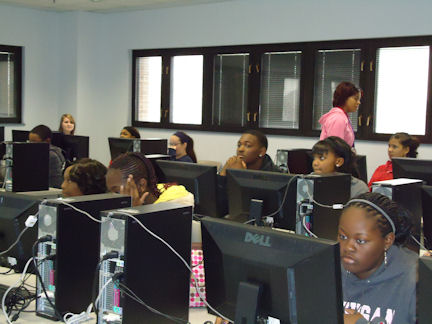 The University of Michigan-Flint's School of Health Professions and Studies (SHPS) recently received a $1.8 million grant for a three-year continuation of the Health Careers Opportunity Program (HCOP).  The grant is from the Health Resources and Services Administration.
HCOP is a program under SHPS, started in 2005, with a primary goal to assist and encourage students from Flint area schools to learn about and eventually join the health professions. HCOP has several programs in place to assist area students with the academic and social skills needed to successfully graduate from high school, enroll, and graduate from college.
"This program meets a critical unmet need in the health professions of improving the health of underserved and disadvantaged populations," says David Gordon, M.D., dean of the School of Health Professions and Studies. "We desperately need individuals from such populations to excel in school, and to ultimately become the types of health professionals who are best able to tackle and eliminate the health disparities we have in this country. Such Federal funding needs to be sustained since it allows our school to do its part in achieving this mission"
"Our experienced staff have a proven track record in helping students gain the skills and knowledge necessary to be competitive in applying to educational programs in the health field" says Donna Fry, PT, Ph.D., special assistant to the SHPS dean.
"The Health Careers Opportunity Program is excited about the renewal. All of our staff are committed to pushing students to reach their full potential," says Robin Carter, HCOP program director. It is our goal to see diversity in healthcare in the Flint community among future health professionals"
Contact University Communications & Marketing with comments, questions, or story ideas.