College Town Mayoral Debate Attracts Large Crowd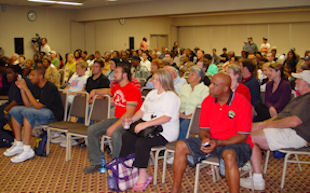 About 200 people packed the UM-Flint Michigan Rooms Tuesday evening (Oct. 11) to learn more about the mayor of Flint and the man who will challenge him in the November election.
The "College Town Mayoral Debate"  was more than an opportunity to learn about incumbent Dayne Walling's and challenger Darryl Buchanan's visions for Flint's future, it also featured an after-debate discussion session.
The University of Michigan-Flint joined with Mott Community College, Kettering University, and Baker College to sponsor this community event. A faculty member from each school participated in the debate.
The debate was moderated by:
Marcus Paroske, Ph.D.
Department of Communication and Visual Arts
University of Michigan-Flint
Making up the panel of questioners were:
Ezekiel Gebissa, Ph.D.
Department of Liberal Studies
Kettering University
Paul Rozycki, professor
Fine Arts and Social Sciences Division
Mott Community College
Michael Rucks, professor
Baker College
Following the debate, UM-Flint's "American Democracy Project" held a post-debate discussion with those who attended. Faculty and staff volunteers helped lead the discussions.
Watch abc12's coverage of the College Town Debate.
Contact University Communications & Marketing with comments, questions, or story ideas.