UM-Flint Nursing Forms Overseas Connection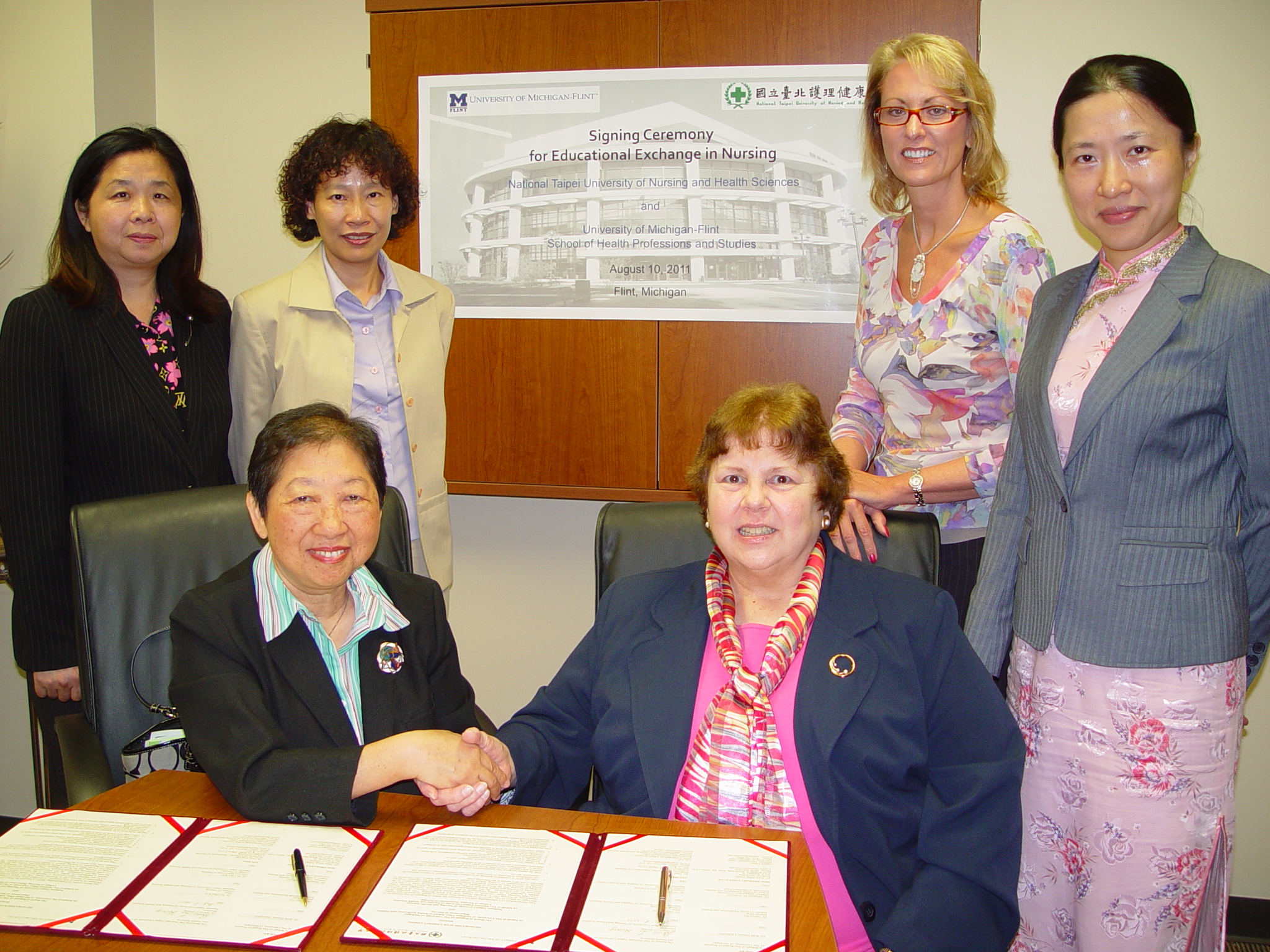 The University of Michigan-Flint has a new partnership with a university in Taiwan. The Department of Nursing has signed an agreement with the National Taipei University of Nursing and Health Sciences (NTUNHS) for educational and cultural exchanges involving undergraduate and graduate students in nursing. 
Su-Chen Kuo, Ph.D., NTUNHS dean and professor of nursing, and Margaret Andrews, Ph.D., director of the UM-Flint Department of Nursing, participated in a Signing Ceremony on August 10 to launch the exchange agreement.  Others at the ceremony from left to right standing include: Theresa Chang, Ph.D., and NTUNHS' Professor Ting-Ting Lee, UM-Flint's Constance Creech, director of graduate nursing programs, and Huey-Ming Tzeng, associate director of nursing.
Andrews said NTUNHS is the oldest nursing program in Taiwan, and its reputation for excellence was one of the reasons the decisionwas made to partner with the university.
The exchange of students will begin in summer 2012 when 8-10 doctoral students from NTUNHS will join the UM-Flint Doctor of Nursing Practice (DNP) students for classes, visit area health care facilities, and learn more about U.S. health care delivery systems and approaches to providing culturally competent health care.
In the future, UM-Flint undergraduate and graduate students in nursing  will visit Taiwan to learn more about  traditional  Chinese healing practices (e.g., reflexology, aroma therapy, and acupuncture) and strategies for integrating these practices into Western nursing and health care.  Opportunities for graduate students and faculty to conduct cross-national research will also be explored during upcoming visits.
Contact University Communications & Marketing with comments, questions, or story ideas.