UM-Flint to Involve Community in New Renewable Energy Course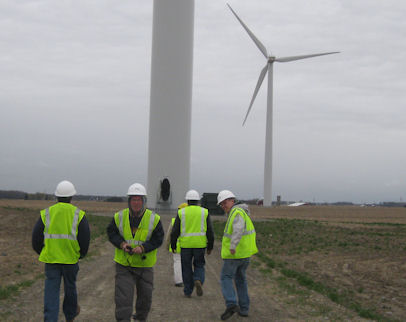 University of Michigan-Flint students recently had an opportunity to get a firsthand look at the giant wind turbines operated by Consumers Energy near Bad Axe.  This form of renewable energy will be just one of many that will be covered in a new course being offered in fall 2011.
What are different sources of renewable energy and technologies such as wind turbine, solar power, hydro-turbines?   How can renewable energy help us as an individual and society to reduce dependency on fossil fuel as well as help the environment? By exploring different types of renewable energy sources, the economic impact on Flint and surrounding communities will be investigated.  Students will work closely with local renewable energy companies to install solar panels and wind turbines. These are some of many areas that will be explored in a new Renewable Energy course offered by the Mechanical Engineering Program.
The trip to Wind Park was sponsored by the Office of Research, and could lead to future collaborations with Consumers Energy engineers. This is just one of the resources that the new course will examine so that students can become familiar with current and future technologies and trends that are changing individuals and society.
The course will be taught by Mechanical Engineering Professor Quamrul Mazumder, "It will familiarize students with different types of renewable energy systems as well as current and future trends in renewable energy technologies."
For more information about the course, contact the Department of Computer Science, Engineering & Physics, 810-762-3131 or qmazumde@umflint.edu .
Contact University Communications & Marketing with comments, questions, or story ideas.