Variety is the Theme for Earth Day Celebration 2011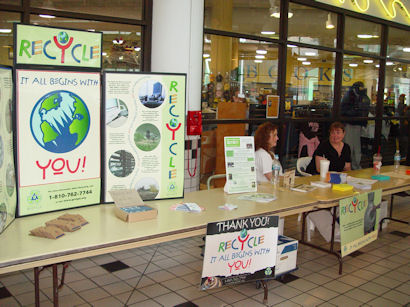 This year's Earth Day Celebration hosted by the University of Michigan-Flint campus and co-sponsored by Mott Community College on Saturday, April 16 will feature more than 50 exhibits and presentations on topics ranging from organic gardening and alternative energy to ecological awareness. Many local animal-related groups will provide visitors with information on the live animals they bring to the event. 
For the first time since the event has been held on the UM-Flint campus, Birds of Prey will do two presentations featuring their large, live birds. The Organization for Bat Conservation from Cranbrook Institute of Science will be back again this year giving two educational presentations featuring live bats. Nature Discovery will be exhibiting a large collection of reptiles and amphibians native to Michigan that visitors may interact with and learn more about.
Also on display will be some of the most fuel efficient cars being produced by automakers. The Energy Efficient Vehicle Show, featuring high mileage and hybrid vehicles such as the Smart Car along with other energy efficient vehicles, will be open for public viewing.
"Each year we try to build a bigger and better event, adding new features to appeal to educators, students, and adults as well as children," said Mike Lane, UM-Flint's director of Environmental Health and Safety. "A new feature this year will be acoustical music provided by local musicians who will be adding a new, exciting tone to the celebration."
Keep Genesee County Beautiful will have a comprehensive exhibit and provide a presentation on many facets of recycling, reusing, and reducing waste and providing valuable tips for each of us that help make a big difference.  Flint River Watershed Coalition and Friends of the Flint River Watershed are participating as presenters and exhibitors providing information on how to improve and preserve the quality of the watershed.
The Earth Day Celebration features a variety of fun and educational entertainment for all ages, and many family-friendly events and activities.
The event is free and open to the public and will be held in the Harding Mott University Center on Saturday, April 16, 10 a.m. to 4 p.m.  At 4 p.m., the UM-Flint Wildlife Club is hosting a viewing of the movie Food Inc. in the KIVA, followed by a discussion of our food, health, and resources.  Many local organizations will participate in providing information and presentations on topics like organic gardening,alternative energy, and ecological awareness.
Contact University Communications & Marketing with comments, questions, or story ideas.