UM-Flint Students Take Math Night to Flint Schools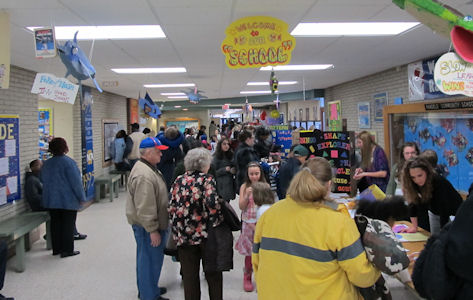 Sixty UM-Flint Students majoring in elementary education made the March 31 Family Math Night at Randels Elementary School in Flint a big success.
As part of a community service project, the students helped to provide the elementary students with a better understanding of mathematics. The UM-Flint students led more than 30 activities for the crowd of over 100 children and the same number of parents. Posters were displayed at each station describing the activity.
Last fall, elementary education students presented Math Nights at Cook and Mason Schools in Grand Blanc, and at St. John Vianney in Flint.
"Family Math is a win-win for both the university and the school.  Our teacher candidates get real hands-on experience interacting with kids and parents, while the school gets to provide a hugely fun and rewarding learning experience on a topic that is not often thought of as fun," said Matt Wyneken, associate professor of education.
Contact University Communications & Marketing with comments, questions, or story ideas.