New City of Flint Logo Comes from UM-Flint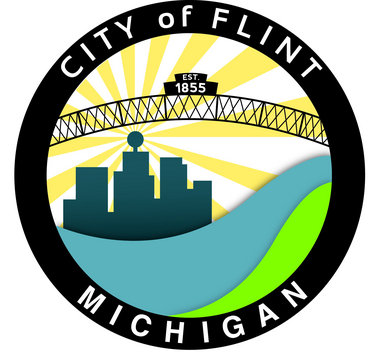 The City of Flint has a new logo thanks to the talents of a recent University of Michigan-Flint graduate.  Joyce ElHayek, who now works in the Office of University Relations, submitted the design a year ago as part of a student competition.
According to ElHayek, the logo features many elements that are hallmarks of the City of Flint, and she wanted the design to honor the past.
"I made a conscious effort to incorporate the arch, skyline, and the river–all of which Flint is known for," said ElHayek. "When thinking of what colors best define Flint, I chose colors that reflect Flint's connection to nature and the bright future the city holds."
"This is a great design that shows off our great past and bright future," stated Mayor Walling.

UM-Flint Chancellor Ruth J. Person was at City Hall to congratulate ElHayek.The logo was featured for the first time on a report that Mayor Dayne Walling released at the State of the City address.
The City Seal, the official seal of the City of Flint, will continue to be used alongside the new full-color logo.
For ElHayek the competition was her opportunity to "give back."
"I came to this country and to Flint in 2006 because my home country, Lebanon, was at war. I graduated from Mott Community College and the University of Michigan-Flint. I've received honors from both institutions as well as from local professional associations. I am so proud to be able to give back to the City of Flint, and to help reinvent the city that has helped me reinvent myself."
Contact University Communications & Marketing with comments, questions, or story ideas.