Wallenberg@Flint: Long-Running Ann Arbor Program Comes to UM-Flint
The 20th anniversary of the University of Michigan's acclaimed Wallenberg program will be marked with the inauguration of "Wallenberg@Flint," which builds on Ann Arbor's Commemoration.
The annual Wallenberg Lecture commemorates the life and courage of Raoul Wallenberg, a 1935 U-M graduate, who saved the lives of tens of thousands of Hungarian Jews near the end of World War ll.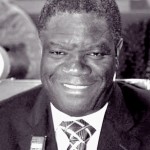 The 20th Medalist is Dr. Denis Mukwege, who specializes in the surgical treatment of women who have been raped, usually by armed militia or soldiers, in the ongoing war zones of Congo's eastern Kivu provinces. He spoke in Ann Arbor in November 2010.
Because of a February storm, the presentation has been changed to Tuesday, April 5.
Following the showing of a DVD that includes an address by Dr. Dennis, UM-Flint Professors Dauda Abubakar, Gulema Gemeda from the Africana Studies Department, and Jennifer Alvey from Women and Gender Studies will provide commentary.
Wallenberg Lecture and Panel Discussion
(Rescheduled from February)
Monday, April 11, 5-7 p.m., RM 111, David french Hall.

For additional information contact University Relations at (810) 237-6570.
Contact University Communications & Marketing with comments, questions, or story ideas.