UM-Flint Receives National Recognition for Community Engagement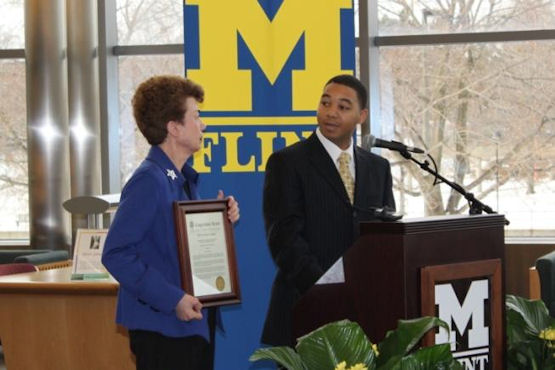 The University of Michigan-Flint has been selected by the Carnegie Foundation for the Advancement of Teaching for its 2010 Community Engagement Classification.
UM-Flint joins an elite group of only 311 colleges and universities in the nation with this significant recognition of a campus-wide commitment to civic engagement in the greater Flint community. In order to receive the classification, the university had to clearly demonstrate its commitment to  outreach, partnerships, and curricular engagement.
"This is an extraordinary validation of the educational experience at the University of Michigan-Flint," said Chancellor Ruth J. Person. "The selection of UM-Flint by the Carnegie Foundation shines a national spotlight on our shared commitment to community engagement, and the outstanding work of our faculty, students, and staff."
As part of the extensive application process, UM-Flint provided descriptions and examples of institutionalized practices of community engagement that showed alignment among mission, culture, leadership, resources, and practices.  The information provided by UM-Flint included clear illustrations of the university's eclectic approach to engagement with the community in  multiple dimensions. Some of the documented examples include:
–         Office of University Outreach
–          Partnership with the Genesee Intermediate School District to create and house the Genesee Early College at UM-Flint
–          Establishment of the Urban Health and Wellness Center
–          Flint River Corridor Alliance Partnership
–          Hurley Medical Center Partnership
–          Flint Cultural Center Partnership
"This area is rich with people and organizations who are interested in collaborations that bring meaningful results," stated Chancellor Person.  "This honor occurred because of our partners, and it is a celebration of the entire community's approach to working together for the common good."
More than 300 universities applied for the Carnegie Community Engagement Classification in 2010, and only 115 were selected.  The next opportunity for universities to apply for the classification will be in 2015. In the notification to the UM-Flint campus regarding the classification designation, Carnegie President Anthony S. Bryk wrote:
Your application documented excellent alignment among mission, culture, leadership, resources, and practices that support dynamic and noteworthy community engagement, and you were able to respond to the classification framework with both descriptions and examples of exemplary institutionalized practices of community engagement.  You also documented and coordinated evidence of community engagement in a coherent and compelling response to the framework's inquiry.
"By taking advantage of a broad range of opportunities for community engagement at UM-Flint, our students develop a deeper understanding of their obligation to serve others throughout their lives.  Moreover, these engagement activities help students develop the professional skills that they need to thrive after graduation," said Provost and Vice Chancellor for Academic Affairs Gerard Voland. "This recognition makes it clear to students that UM-Flint is a top choice for experiential learning in the community and beyond."
Contact University Communications & Marketing with comments, questions, or story ideas.