UM-Flint Student Art on Display in Lansing
The artwork of two UM-Flint students is now hanging in the Anderson House Office Building (HOB) in Lansing. The students were invited to the Michigan House of Representative's kick -off of this year's Arts in the Legislature program.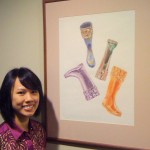 The artwork of student My Tran, titled "Weightless," has been placed on the 7th floor, while Jeff Powell's Maria at U of M" is on the 8th floor of HOB. State Representative Joan Bower (D-Lansing), who is the chair of the House Appropriations Committee on Higher Education, participated in the event.
Chris Waters, chair of the Department of Communication and Visual Arts, said in the past, faculty selected the art, but now, the pieces are selected by the juror who juries the annual student show in April.
"For the past two years we have applied for and received an annual fund award allowing us to purchase the artwork so it can be displayed after its year in Lansing somewhere on campus as part of the permanent collection," said Waters.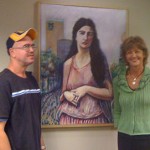 The program is a partnership between  the State House and the state's 15 universities represented by the Presidents Council,  State Universities of Michigan  (PCSUM).
Contact University Communications & Marketing with comments, questions, or story ideas.