UM-Flint Exceeds Strategic Enrollment Goal for Fall 2010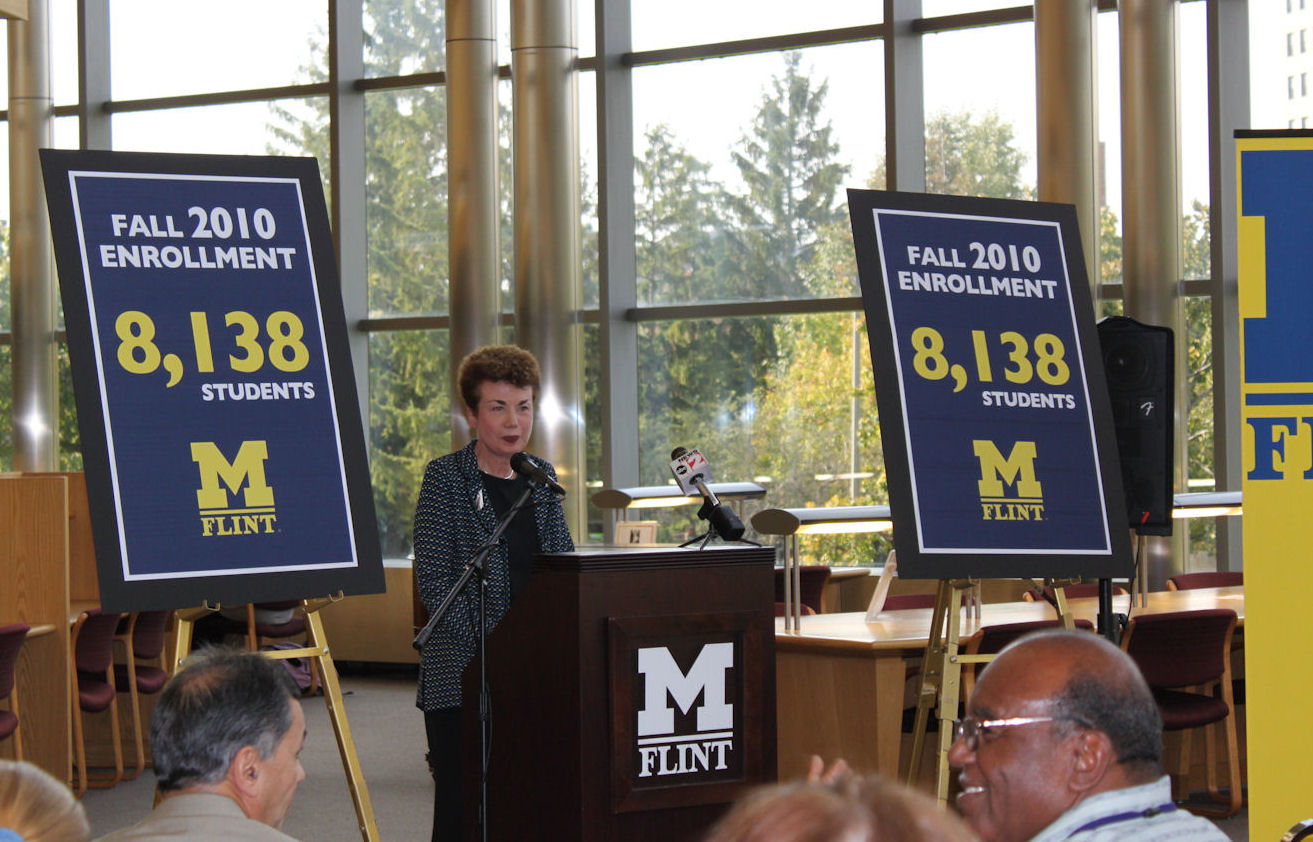 The University of Michigan-Flint has achieved yet another significant historical milestone with enrollment that has exceeded more than 8,000 students. For the fall semester, enrollment has reached 8,138 students. The overall increase is 4.6% compared to fall 2009 when there were 7,773 students enrolled. 
This is the fourth year in a row the University of Michigan-Flint has increased enrollment. The substantial growth is across several categories.  Freshmen enrollment grew from 768 students in fall 2009 to 781 for fall 2010, an increase of 1.7%.  Other increases over fall 2009 include:
–          5.1% increase in transfer students
–          6% increase in graduate students
–          6.3% increase in continuing students
–          28.2% increase in student veterans
–          Over 40% increase in international students
"Exceeding the strategic goal of 8,000 students is significant for both the campus and the community," said Chancellor Ruth J. Person. "Growth of this magnitude allows for the continued investment in a quality educational experience for our students.  In addition, this increase in the number of student pursuing their degrees in Flint is yet another contributing factor in the successful development of this region."
For the sixth consecutive year, graduate enrollment at the University of Michigan-Flint continued to grow as more students pursue their master's degrees in high demand programs such as business, computer science and healthcare. Graduate student enrollment also achieved a historically high number with 1,264 students enrolled.
"Both the Office of Undergraduate Admissions and the Office of Graduate Programs had aggressive recruitment planning that strongly contributed to the strong increase in our student population," said Provost Gerard Voland.  "In addition, the collaboration of faculty and several other key departments provided the framework for success in recruiting top students."
One of the most dramatic increases for fall 2010 is the number of international students. The number increased by more than 40% over fall 2009 to more than 260 international students on campus. The students are from more than 35 countries including China, Thailand, Japan, Pakistan, Kenya, Uganda, Saudi Arabia, Egypt, Croatia, Romania, Bangladesh, Syria, Canada, India, Jamaica, South Korea, Taiwan, Nigeria and others.
"The outstanding growth of the international community at UM-Flint is the result of a multi-year targeted effort to recruit students from abroad," stated Provost Voland.  "We deeply value our international students, and the diverse perspective they bring to our campus.  It is our intention to continue our efforts to recruit students from other countries, and bring them to the Flint area for a world class educational experience."
UM-Flint's recent investment in the recruitment of student veterans as well as offering outstanding resources resulted in a 28.2% jump in enrollment for that group.  The number of student veterans at UM-Flint grew to 191 for fall 2010 from 149 in fall 2009.
"This is an exciting time at the University of Michigan-Flint as our campus grows to meet the needs of the knowledge economy," stated Chancellor Person.  "Our recruitment activities for the class of fall 2011 are well underway.  We are prepared to continue to offer this community and the region an excellent educational experience which is the hallmark of the University of Michigan tradition."
The University of Michigan-Flint was also recently recognized as a "Best in the Midwest" university by the Princeton Review which selects universities based on academic excellence.
Contact University Communications & Marketing with comments, questions, or story ideas.