Delta College and UM-Flint Reach New Agreements Covering Students, Faculty, and Staff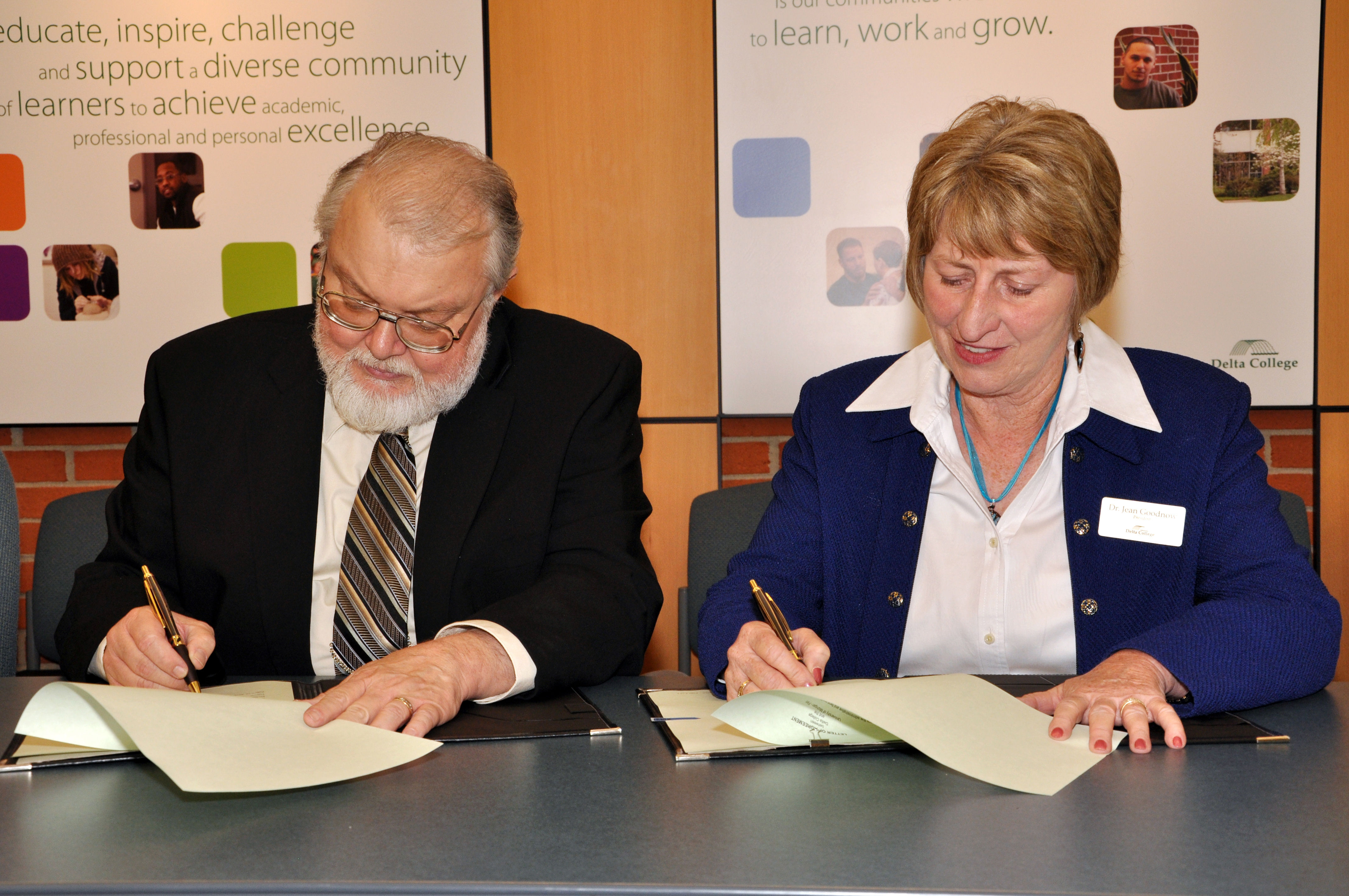 Delta College and the University of Michigan-Flint have entered into two new agreements that will make it easier for Delta business students to transfer to UM-Flint, and for Delta faculty and staff to earn graduate credits.
The UM-Flint School of Management has entered into a new partnership that will benefit Delta students seeking a bachelor's degree in business.
A new articulation agreement was signed Wednesday, August 25, by officials from both schools. It will ensure that students who complete courses for an Associate in Business Administration Degree at Delta a smooth transition to the Bachelor of Business Administration (BBA) degree program at UM-Flint.
Under the agreement, students may transfer credits earned at Delta's Associate Degree in Business Administration towards the BBA degree at the UM-Flint. Students interested in transferring will be provided assistance with the transition and enhanced advising.
Additionally, a new collaborative program has been designed by Delta College and the School of Education and Human Services of UM-Flint to offer graduate credit for Delta faculty and staff who undertake selected Delta professional development courses offered through the college's Faculty Center for Teaching Excellence.
This collaborative program is part of UM-Flint's Credit Option Program that enables graduate credit to be earned, at the option of the enrollee.
"This is a wonderful opportunity for both students and staff to continue their education," said Jean Goodnow, President of Delta College. "We are very pleased to sign these agreements ensuring a smooth transition between top-quality programs."
"We are delighted to be signing the graduate credit and the Bachelor of Business Administration articulation agreements with Delta College today," said UM-Flint Provost Gerard Voland. "This is a splendid opportunity for our two institutions to meet some of the higher educational needs of the Tri-Cities/Flint area. We look forward to expanding and strengthening our collaborative efforts with Delta College."
Often referred to as one of America's leading community colleges, Delta College promotes academic excellence, and is known for exemplary programs, technological innovation, community leadership and graduates who make a difference. Since 1961, Delta College's educational efforts have significantly impacted the local economy.
The University of Michigan-Flint is one of three campuses of the University of Michigan. The university offers bachelors and graduate degree programs in the liberal arts and sciences and in a number of pre-professional and professional fields including business administration. Students benefit from an association with the entire University of Michigan, while they enjoy the many advantages of a smaller institution. In August 2008, the university opened its first residence hall.
Contact University Communications & Marketing with comments, questions, or story ideas.