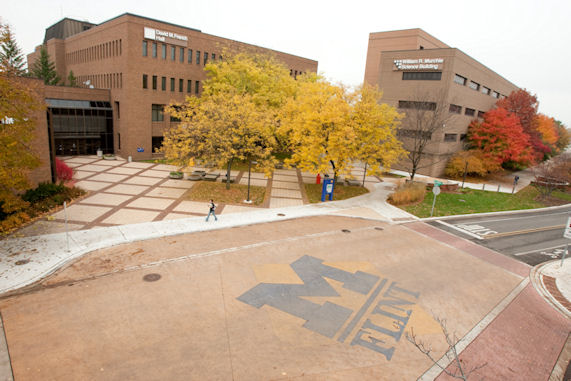 In the past few years, there have been some significant changes to the UM-Flint campus.  However, older satellite photos did not show the upgrades such as the residence hall and expansion of Kearsley St. through campus.
Now, the Google Maps satellite photo of the campus has finally been updated, and not only includes housing and Kearsley St., but the M-Flint logos cut into Kearsley St. at Wallenberg, and on the sidewalks between the residence hall and Murchie Science Building can be easily seen.
A trivia question: What is on the sidewalk between University Center (UCEN) and the horseshoe drive? What was the event?
Contact University Communications & Marketing with comments, questions, or story ideas.