UM-Flint Receives "Customer of the year Award" from Consumer's Energy's Green Generation Program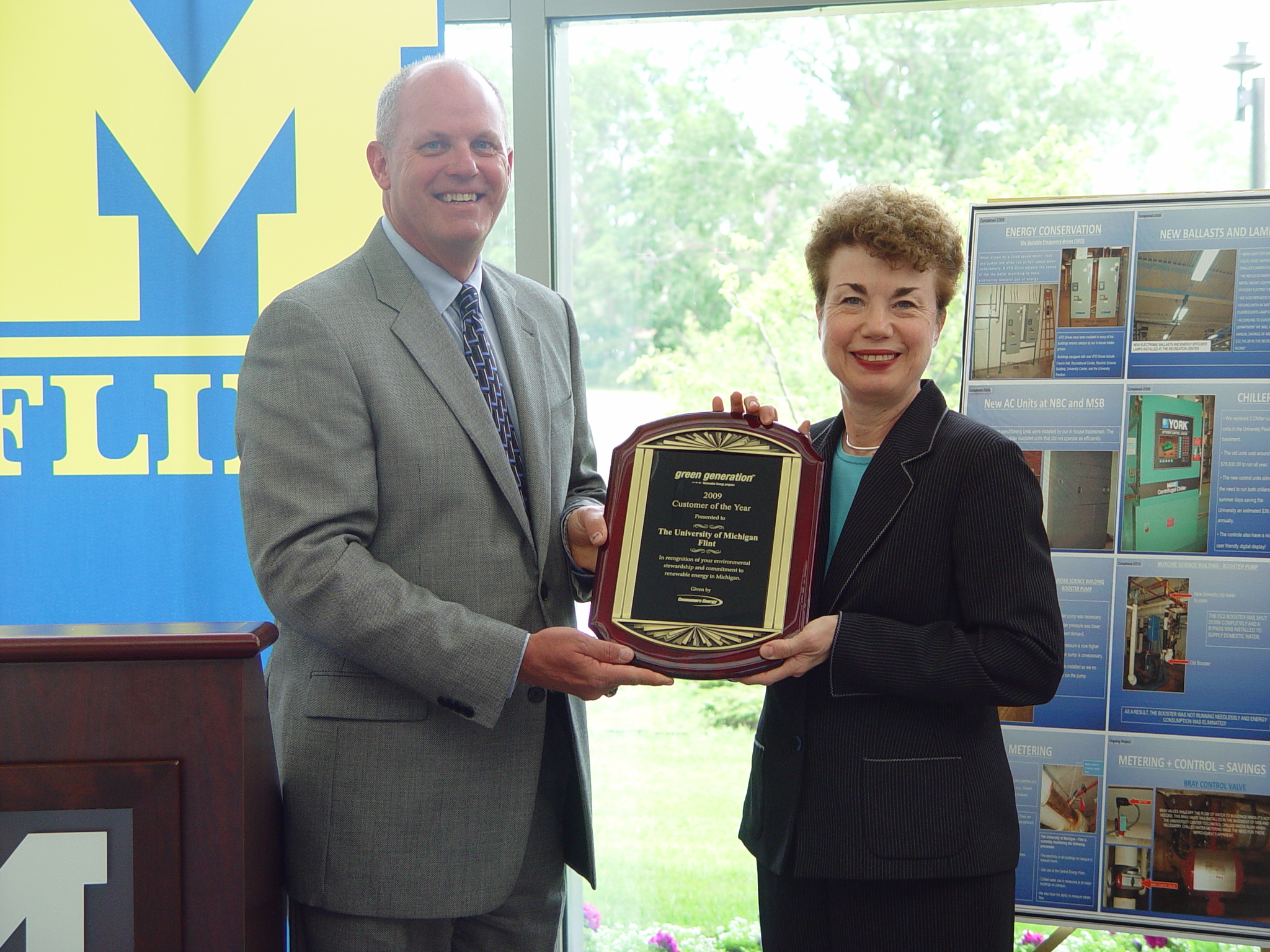 As a result of its outstanding support for renewable energy in Michigan, the University of Michigan-Flint has been named "Green Generation Customer of the Year" by Consumers Energy.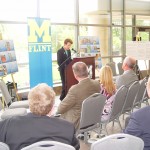 The University of Michigan-Flint has purchased over 2 million kilowatt-hours of Michigan-based renewable energy since joining the Green Generation program in 2006.  This purchase brings its commitment to renewable energy to a level representing 3 percent of its total annual electric consumption.
"We commend the University of Michigan-Flint for demonstrating its commitment to environmental sustainability through its leadership enrollment in the Green Generation program," said Jim Szymusiak, Consumers Energy's executive manager of business customer operations.  "This campus is living up to its motto — 'Go Blue! Live greener.' — by modeling environmental responsibility to students, faculty, staff and the community."
"We are very pleased to receive this award for our participation in Consumer Energy's Green Generation program. We joined the program shortly after it started because of our commitment to doing what we believe is right for the environment," said UM-Flint Chancellor Ruth J. Person. "In the past three years, we have spent $2.5 million on 24 major projects that have either been completed or are in the process of being finished that are aimed at saving energy and other resources.  We are proud of our efforts to both maintain and expand the greening of the Blue."
Bill Webb, the assistant vice chancellor for business and finance, commended students, faculty and staff for their environmental efforts, "We take our efforts to make and keep this campus green very seriously.  We have some great students, faculty and staff who have taken a personal interest to make this an environmentally friendly campus.  What we are doing is not only good for the environment, but it's great for our bottom line."
Consumers Energy's Green Generation program was the first voluntary renewable energy program in Michigan and now has more than 13,000 customer participants.  The program was launched following authorization by the Michigan Public Service Commission.  More than 100 organizations are enrolled in the Green Generation program.  These include the City of Grand Rapids, Grand Rapids Community College, Dow Corning and Wolverine World Wide
Green Generation has led to the development of several new renewable energy projects in Michigan, including the state's largest wind facility, John Deere Renewables' Michigan Wind 1 in the Thumb region.  Other Green Generation projects include biomass facilities located near Birch Run, Fennville, Lennon, Marshall and Zeeland.  Consumers Energy also purchases electricity for the program generated by two wind turbines near Mackinaw City. All of the projects are located in Michigan's Lower Peninsula and all sources are Green-e certified as renewable.
The Green Generation program offers Consumers Energy's electric customers an opportunity to support renewable energy by enrolling in the voluntary program and paying a small premium.  Program information is available at www.greengeneration.com
Consumers Energy, the principal subsidiary of CMS Energy, provides natural gas and electricity to nearly 6.5 million of Michigan's 10 million residents in all 68 Lower Peninsula counties.
Contact University Communications & Marketing with comments, questions, or story ideas.