Join the Crim…Join the UM-Flint Fun
This year, there are two ways for UM-Flint students, faculty, alumni, and staff to participate in the Crim Festival of Races on campus.  The fun takes place on Saturday, August 28.
The first way is to participate in the newest addition to the Crim Festival of Races, the Michigan Mile.  It runs through and around campus. We are looking for UM-Flint students, faculty, alumni, and staff to sign up for this race to show their school spirit.  To register for the race, visit www.crim.org, then email Pam Zemore in the Office of University Relations at pzemore@umflint.edu to let us know you'll be walking or running with us.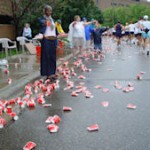 The One Mile Water Station is a second way to get involved. Become part of the tradition of giving thirsty runners in the 10 mile and wheelchair  races  their first drinks of water. UM-Flint volunteers set up the One Mile Water Station just outside the UM-Flint Recreation Center.  Volunteers must arrive at the Recreation Center by 5:45 a.m. (before roads are closed), and help set up, hand out water and cheer on the runners, then clean up.  The event is usually wrapped up by 8:30 a.m.  It's a great way for students to earn service points as well as support a great community event. If you're interested in volunteering, email Pam Zemore at pzemore@umflint.edu to sign up.
Whether you are participating in the Michigan Mile or volunteering at the water station, you will receive a free t-shirt.  Plan on being on campus for "the Crim" on August 28th.
Contact University Communications & Marketing with comments, questions, or story ideas.