UM-Flint grad student secures $10K grant to capture the impact of art accessibility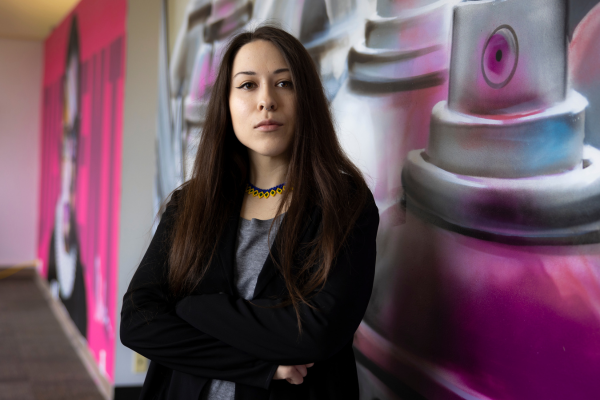 Nalani Duarte, a University of Michigan-Flint arts administration graduate student, is not only curating a new collaborative art exhibition called "Riverbank X Flint Public Art Project," she's also actively ensuring that local art becomes accessible to the community by drawing upon the skills she's developed during her academic journey at the downtown Flint campus.
One of those skills is grant writing. Earlier this year, Duarte wrote a grant seeking funding for the exhibition and successfully secured $10,000 from the U-M Arts Initiative. Duarte says that her grant writing class with Dean Adkins, UM-Flint theatre and dance lecturer, helped prepare her for the process. "I can't thank Professor Adkins enough for preparing me for my career," Duarte said. "It's rewarding to apply skills I've learned to real life scenarios."
The Flint native's studies in arts administration and advanced production management have also provided her with fundamental skills like event planning, budgeting and marketing, which she frequently applies while working at Riverbank Arts. Part of the UM-Flint Arts and Research Cluster, Riverbank Arts has hosted numerous art exhibitions and performances, featuring 100+ artists, musicians, playwrights and performers. The cluster's programming at Riverbank Arts strives to be more inclusive of performing arts and integrate it into coursework involving more than 150 UM-Flint students, including Duarte.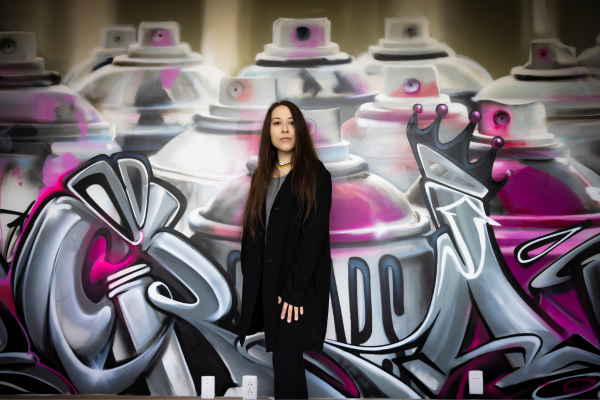 Since Duarte enjoyed her undergraduate experience at UM-Flint so much, it led her to explore post-graduate options as well. She said that the graduate program's combination of museum studies and theatre management tracks are a definite advantage because it's allowed her to immerse herself within a creative and diverse community.
"Stepping out of my comfort zone and working with others from different disciplines has helped me become more comfortable with approaching new people, and forming new personal and professional relationships."
Duarte chose to pursue a career in the arts because it not only felt like a natural fit for her, but also because she is inspired by other like-minded individuals.
"I've always enjoyed drawing, and being around other artists has helped me work towards improving my own artistic practices."
Duarte has worked at Riverbank Arts since 2022 and has helped curate two other exhibitions. She's also gained hands-on experience with establishing and maintaining relationships with local organizations as well as curation and time management. She said that collaborating with an organization like FPAP, which focuses on revitalizing Flint neighborhoods through art and design, is important because it helps emphasize community engagement.
"We try to feature exhibitions and content that would best relate and appeal to our community members," said Duarte.
Duarte, who will complete her master's program this December, said that curating the exhibit has also provided her with the opportunity to associate with the artists installing their pieces at Riverbank Arts as well.
"The artists are coming into our space and creating their work directly on our walls, rather than dropping off finished pieces, and I've been able to connect with and be inspired by them."
For more information about UM-Flint's arts administration program, visit its webpage.
To learn more about the Riverbank X Flint Public Art Project, which is open through Oct. 13, visit its website. 
Madeline Campbell
Madeline Campbell is the communications specialist for the College of Arts & Sciences. She can be reached at mciak@umich.edu.