UM-Flint nursing degree advances career of an alum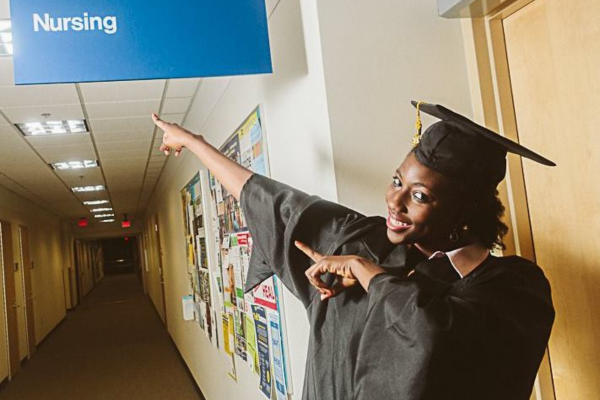 The rapidly evolving environmental, physical and mental conditions of our society have led to an increased diversification of roles for professionals in health care, particularly nurses. A nursing degree advances career opportunities for many in this profession. According to the American Association for Colleges of Nursing, there are more than 4.2 million registered nurses in the U.S. today. One big contributor to that figure are the University of Michigan-Flint's nursing programs, introduced more than 35 years ago, that have produced nearly 6,000 graduates.
One of those graduates, Japari Gadzama, reflects on those aforementioned diverse roles that UM-Flint-prepared nursing professionals undertake. A 2017 graduate with a bachelor's degree in nursing, Gadzama's story showcases the growing trend of nurses serving in a variety of roles and attaining specialized skills. In addition to working in patient-direct care at a number of hospitals, Gadzama has also served as team lead outreach nurse for the Detroit Health Department, leading its COVID-19 outreach and education response. She is currently transitioning from a role as assistant director for Detroit Public School Community District to assistant director of DPSCD's new health hubs.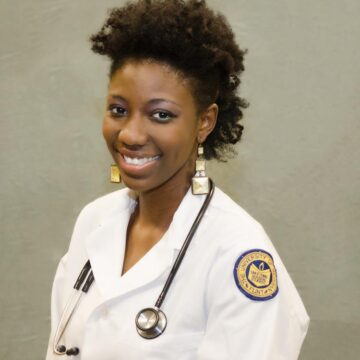 The possibilities excite Gadzama, who also has a Master of Public Health degree. "To be able to impact the community's health in general is exciting," she said. "The health hubs will be community centers where anyone in the neighborhood can come and receive services. From medical and behavioral health support, to food assistance and general community well-being, we want to make a difference. The aim is to indirectly give kids what they need to be successful — a healthy community around them."
Gadzama chose the UM-Flint nursing program because of its reputation and affordability, noting that a nursing degree advances career options. She also knew several students attending the program, who kept her motivated during tough moments.
"The nursing students ahead of me, I knew some of them as friends and classmates," said Gadzama. "We even played intramural soccer together." She credited the UM-Flint nursing faculty with helping her realize her potential. "My interest in the human sciences increased," she said. "I realized I enjoyed learning about it, and one professor said I should consider nursing. I found out I was good at it."
Despite the field experiencing shortages and other challenges, Gadzama finds a sense of purpose in being a nurse.
"What is rewarding about the job for me personally, is being able to be part of someone's recovery and be in their life at a time when they are most vulnerable," she said. "You are usually meeting this person and their family members on their worst days. Helping someone during their toughest, scariest, most vulnerable time is why I do this."
Recently, the School of Nursing recognized Gadzama and the other 5,935 graduates of its program by placing that number of maize and blue flags outside the university's William S. White Building throughout May in recognition of National Nurses Month.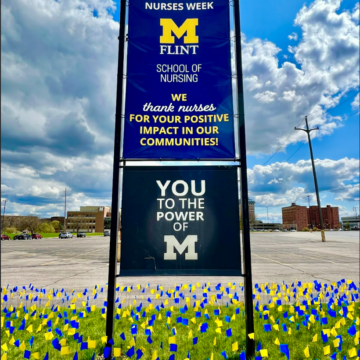 The theme for this year's event was "Nurses Make a Difference," a sentiment echoed by Cynthia McCurren, dean of SON, in a video message dedicated to all nurses.
"This year's theme recognizes the many roles that nurses have," McCurren said in the message. "Beyond direct-patient care, nurses are also educators and researchers."
Learn more about UM-Flint's nursing certifications, including Nursing and Healthcare Informatics and Nursing in Leadership and Management, on the SON webpage.
Asinda Sirignano
Asinda is a communications specialist with the School of Nursing. She can be reached at asirigna@umich.edu.