For UM-Flint students seeking mental health help, CAPS is here for you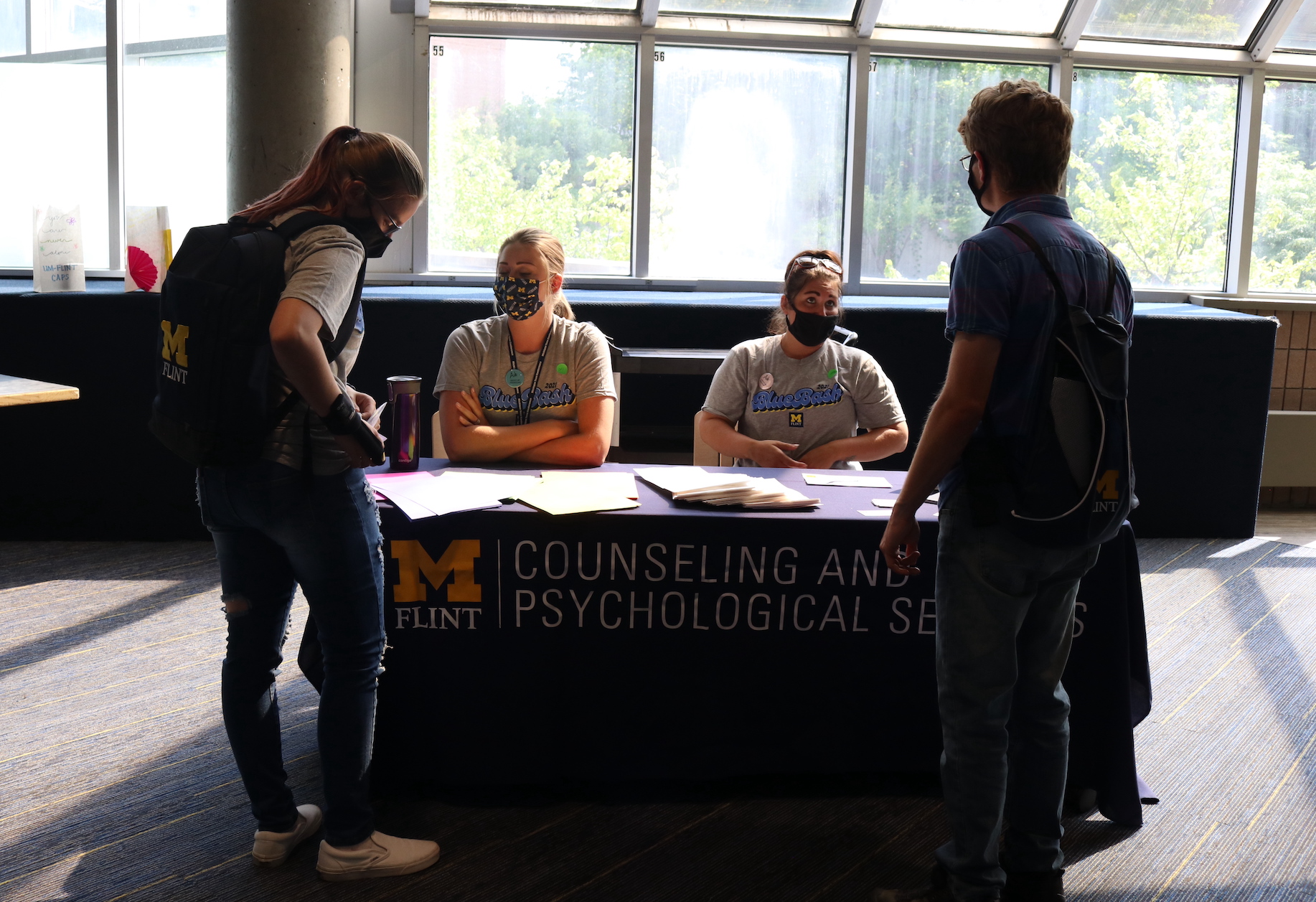 If you're a college student struggling with your mental health, you are not alone.
One out of every five young people has some form of diagnosable mental illness, and 44 percent of college students in America reported feeling symptoms of depression, according to the University of Michigan.
May is Mental Health Awareness Month, and it's important to know that UM-Flint has an office to help: Counseling and Psychological Services, also known as CAPS. CAPS offers in-person and remote counseling to current UM-Flint students.
Five licensed, master's-level counselors provide students with confidential individual, couples, and sometimes group counseling, along with workshops, support groups, and mental health and well-being resources. CAPS counselors primarily operate from a short-term, solution-focused model of treatment, but counselors may use other kinds of treatments depending on the needs of the student.
With CAPS After Hours Services, students can receive crisis care at any time at (810) 762-3456.
What can you expect?
To schedule an appointment, contact the CAPS office. Students can request a particular counselor or be assigned one, and they can change counselors if they wish.
The first step is a 90-minute intake appointment for counselors to holistically assess the mental health and wellness needs of each student. Students are asked to fill out assessments to provide baseline information about their current levels of functioning, academic standing, demographics, trauma history, and more.
Students spend the rest of the intake appointment with a CAPS counselor in a private office, further discussing and elaborating on the student's current mental health and wellness concerns and goals for treatment. Counselors share basic information about CAPS services, what to expect when receiving services, and the limits of confidentiality.
During future individual counseling sessions, students meet individually with their counselor for 45 to 50 minutes weekly or biweekly to discuss information and resources and apply therapeutic interventions and techniques to assist students with meeting their mental health and wellness goals.
"Mental health counseling is an active, not passive, process," said Lead CAPS Social Worker Kayla Bueby, LMSW. "Without regular attendance and participation in counseling sessions and implementation of skills and strategies outside of sessions with a counselor, it is likely that students will have difficulty meeting their mental health and wellness goals."
What UM-Flint students are facing
The top two concerns UM-Flint students report to the CAPS office are feelings of depression and anxiety. Students don't need to have or qualify for a formal mental health diagnosis in order to receive services from CAPS.
CAPS counselors can assist students with a wide variety of mental health and wellness concerns, including but not limited to:
Personal concerns: mild to moderate stress and anxiety, depression, anger, loneliness, guilt, low self-esteem, and grief and loss
Relationship concerns: romantic difficulties, interpersonal conflicts, family problems, communication issues
Developmental concerns: adjustment to college, life transitions, identity (e.g., personal, cultural, sexual orientation, gender identity)
Substance use concerns related to mild or moderate alcohol or other drug use/abuse
Academic concerns: performance anxiety, perfectionism, low motivation, or mental health issues that affect academic difficulties
Other concerns may include but are not limited to: effects of trauma, sexual assault, abuse, family history, spirituality, body image, food preoccupation, and healthy lifestyle choices
In Fall 2021 and Winter 2022, CAPS provided 2,149 appointments to 262 clients, 77 percent of which were done remotely via Zoom or phone.
More than 41 percent of students receiving CAPS services have never had prior mental health counseling.
Students who received CAPS services overwhelmingly report positive outcomes. More than 80 percent of students state their academic performance has improved, and nearly 90 percent of students report they are more likely to complete their degree at UM-Flint because of CAPS services. All students who received CAPS services say they felt safe sharing their thoughts, feelings, and concerns with the counselors, and all students say they are pleased with the services they received.
Students can find resources to support their mental, physical, and emotional health here, and review the university's digital care package.
To make an appointment with a CAPS counselor, contact the office at (810) 762-3456 or visit 264 University Center.
Lindsay Knake
Lindsay Knake is the Communications Coordinator for the UM-Flint Division of Student Affairs. Contact her with any questions, comments, or ideas about the DSA newsletter, social media, events, and communications.