College of Innovation & Technology's inaugural class ends first year with a celebration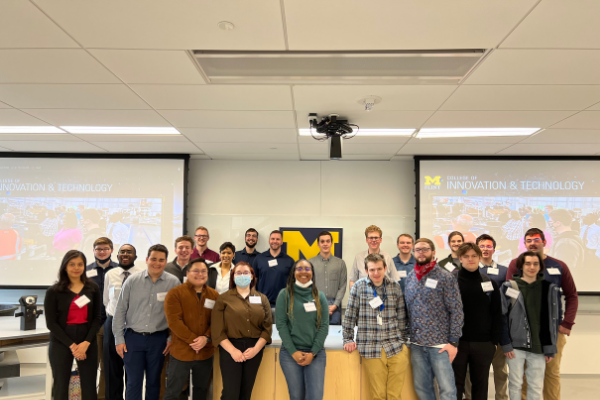 The College of Innovation and Technology (CIT) recently celebrated the end of its first official year. Students, staff, faculty, and industry partners connected over conversation and delicious food, revisiting all of the great things the CIT community has accomplished, and recognizing the innovation that our inaugural class brought with them into UM-Flint.
As part of the CIT celebration, many student projects were featured, providing an opportunity for students to showcase their hard work outside of the classroom, giving industry partners a snapshot of what creativity, technical skills, and some faculty guidance can allow them to accomplish. These projects were part of the Internet of Things (ITI-150) class and were under the supervision of Assistant Professor Yasser Aboelkassem. Below are some of the projects that were presented.
Dover: A robot for carbon footprint and air quality monitoring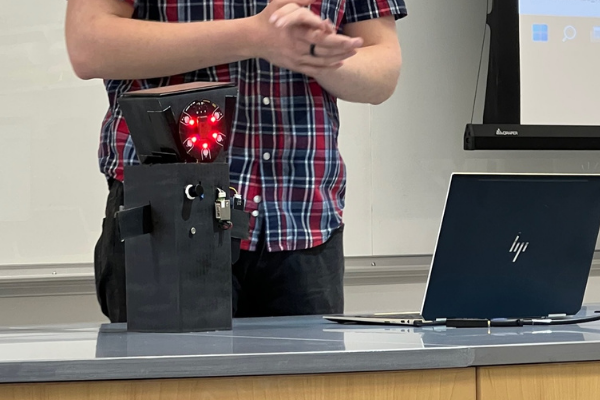 This robot is equipped with sensors to monitor indoor air quality such as ozone levels, volatile organic compounds (VOCs), and carbon dioxide. The robot will also be equipped with a messaging system to inform users of the air quality and their carbon footprint, as well as propose ways to reduce it.
Measuring biodata from plants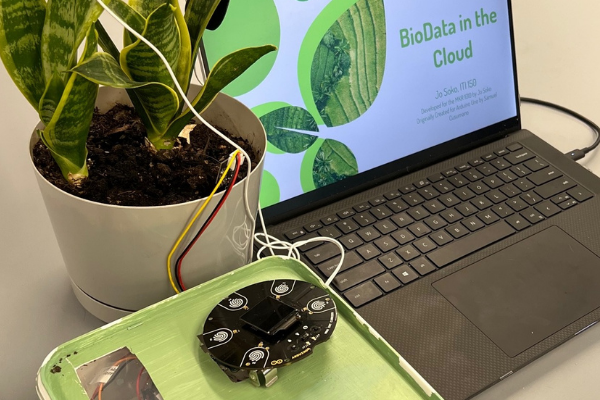 This project uses state-of-the-art Arduino microcontrollers with some high-sensitivity electrodes to record electrical activity within plants (biodata). The project is considered a first step toward building a well-designed plant sonification device.
Barista Bot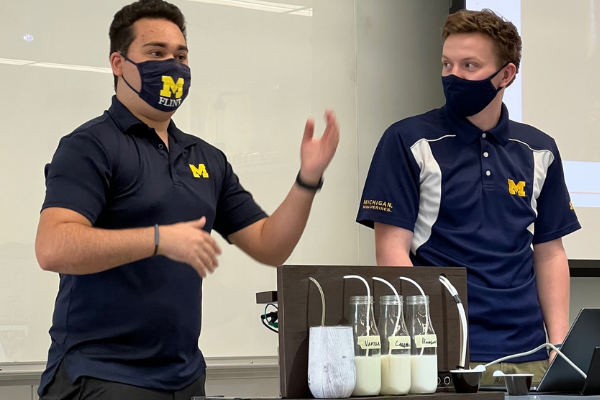 This is a personalized robotic barista that is fully controllable from the cloud. The design integrates several pumps with a custom-built wifi Arduino circuit capability. Code was written to time the flow rate from each pump and prepare the coffee ingredients. An ultrasonic sensor also detects the placement of a cup to prevent coffee spills. A fully functional barista that you can control from the comfort of your bed!
Smart Plant Care System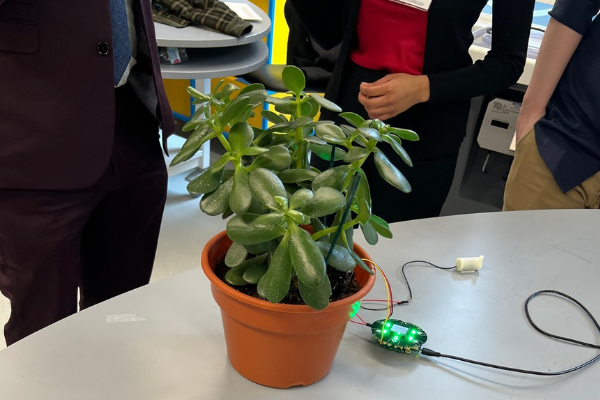 The system automatically measures the moisture level of the soil for a plant and ensures it's within the ideal range for plant growth. It uses a 12V water pump connected to an Arduino (IoT) carrier. The system was tuned to respond efficiently to the water needs when moisture drops below the set threshold and starts watering the plant automatically. The system is capable of monitoring the temperature, light intensity, and humidity levels as well.
Dr. Pearson, dean of the College of Innovation & Technology noted that "the accomplishments of the CIT students in this inaugural year have been outstanding. The projects on display from these first-year students show a level of achievement beyond their years. CIT's future is very bright indeed with these students and faculty leading the way."
CIT also works very closely with industry partners to create experiences such as leadership training, entrepreneurship opportunities, networking, and internships to help our students grow both personally and professionally as they advance through their academic careers into the workforce. These industry partners have made incredible contributions throughout the year. Lear Corporation, Automation Alley, Hurley Medical Center, and Laser Marking Technologies, LLC joined students, faculty, and staff at the end-of-year celebration. These partnerships are valuable for both students and industry in providing open channels and communications between the current and future workforce.
We look forward to what our CIT students will accomplish in future years!
Dayne Hopkins
Dayne Hopkins is the communications specialist for the College of Innovation & Technology. Contact him at dayneh@umich.edu.