UM-Flint creates Accelerated Online Degree Completion program, offers scholarships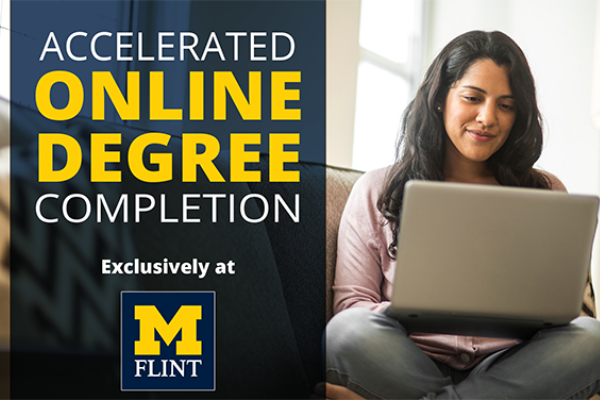 More than 1.6 million Michigan residents have earned some college credits, but no degree. The Accelerated Online Degree Completion (AODC) program at the University of Michigan-Flint is built to help these students complete a respected bachelor's degree and gain skills valued by employers. Thanks to an entirely online format, scholarships, and dedicated support services, AODC is prepared to help students in all life circumstances gain an outstanding education and advance their careers.

Courses in AODC are offered online asynchronously, meaning students can continue working and caring for families while studying. Each course is seven weeks in duration, creating six start dates for students throughout the year. Graduates will earn a Bachelor of Interdisciplinary Studies (BIS) and choose two of three certificates to complete as part of the program: Cybersecurity Fundamentals, Data Analytics and Interpretation, and Digital Communication.
Through Credit for Prior Learning, panels of faculty experts will review students' professional certifications, military training, standardized test scores, and more to determine if these learning experiences meet the exacting standards of UM-Flint curricula. This can reduce the time and money required to complete a degree. A dedicated AODC advisor will guide students through this process.
With generous support from the Charles Stewart Mott Foundation, newly admitted AODC students could qualify for a scholarship of up to $8,000 in their first year of enrollment, increasing the accessibility of this innovative degree pathway.
UM-Flint Chancellor Deba Dutta explains that AODC was carefully built to meet the needs of a population previously ignored by many colleges and universities.
"Empowering our community through a transformational education is central to the mission of UM-Flint," explains Dutta. "Having a family—or working a job—should not exclude someone from a quality education. AODC empowers countless students to earn a renowned bachelor's degree by acknowledging the realities today's learners are now facing."
AODC courses begin in August 2022 and the application is now open. Those interested in learning more can join a 30-minute virtual information session on Wednesday, April 20, at noon. Register at go.umflint.edu/AODCApril20.
Logan McGrady
Logan McGrady is the marketing & digital communication manager for the Office of Marketing and Communication.