UM-Flint's "Pride and Prejudice" offers modern take on literary classic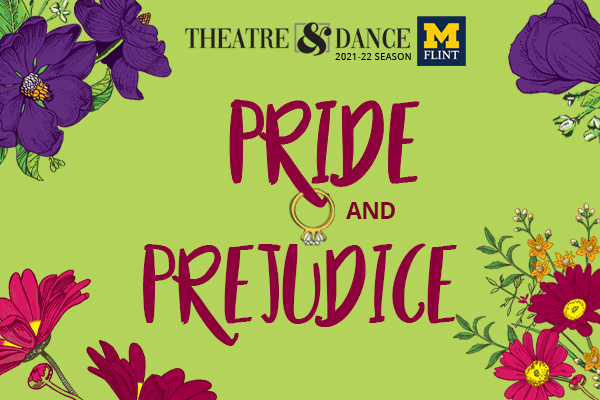 UM-Flint Theatre & Dance is back. Just over two years after the COVID-19 pandemic shut down productions worldwide, audiences can come to UM-Flint in-person to see "Pride and Prejudice," a modern take on Jane Austen's classic novel.
The play will be performed on March 18, 19, 25, and 26 at 7:30 p.m. and March 20 and 27 at 2:00 p.m at the main stage theater at UM-Flint. The audience members are expected to comply with the university's current event protocols. Masks or proof of vaccination are not required for the event at this time. General admission tickets can be purchased through the Whiting Ticket Center.
Directed by Associate Professor of Theatre Janet Haley and based on Kate Hamill's adaptation of "Pride and Prejudice," this production of Jane Austen's classic 19th-century novel centers on the struggling Bennet family, whose daughters are in desperate need of a prosperous marriage.
Audience members will notice that this production isn't your ordinary retelling of the novel. UM-Flint's production features actors playing multiple roles, making statements about class and gender conventions of behavior. The scenic design contains groundbreaking, immersive moving projections over the actors that are best appreciated in person. A short prologue performed by student Elanya Moore invites the audience to think of the show as a journey of what she sees in her imagination when reading the book.
Haley notes that Jane Austen's story is timeless, and offers the chance to be retold in an imaginative, contemporary way.
"Theatre can be a place of imagination rather than a medium of documenting things in a historically accurate way. While the costumes of the show are historically accurate, like 'Hamilton,' we are telling a story of the past through the lens of now," Haley said. "Through certain creative choices, we can reflect who we are now and expand the story beyond literal historical boundaries. Since this is prescribed by the playwright, I chose the material as a way of how we could be inclusive of our students and how they identify."
While Theatre Performance major Leonardo Clark has studied source material like Austen's novel, the BBC television adaption, and the 2005 film to nail the iconic role of "Mr. Darcy," he is bringing his own version to the UM-Flint stage.
"Playing Mr. Darcy is a daunting task. He is an iconic character who many people love and have a certain expectation on how he should be portrayed when they come to watch the show," Clark said. "People should be aware that this is not a straight adaptation from the book–this is the playwright Kate Hamill's contemporary adaptation of it. It maintains the core essentials of the original book, but crafts a story that feels fresh."
Haley says that the production unites a wide range of talent at UM-Flint. Students with other majors outside of the Theatre & Dance programs are involved on-stage and backstage.
"People can come back to the theater, sit with other people, and enjoy a story unfolding in space and time together. We can experience a story that uncovers human relationships, family love, and friendship with beautiful costumes, sound, and projection design," Haley said.
Tickets can be purchased through the Whiting Ticket Center. Future Theatre & Dance performance dates can also be found online.
Contact University Communications & Marketing with comments, questions, or story ideas.