UM-Flint's EOI program makes college education accessible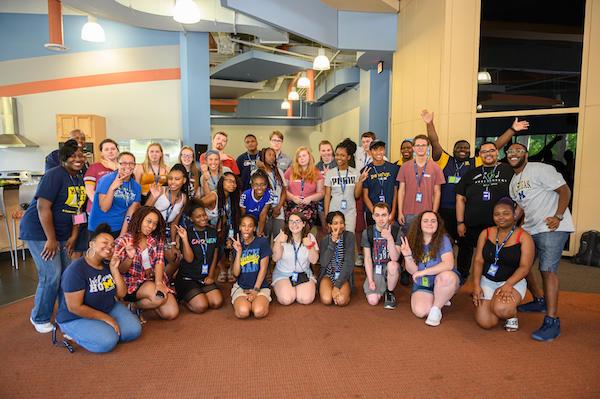 For some middle and high school students, attending a college or university might seem out of reach.
The Office of Educational Opportunity Initiatives (EOI) at the University of Michigan-Flint is here to change that. The office aims to help middle and high school students, particularly from underrepresented populations, succeed in higher education by offering academic support, leadership development, and community engagement.
"One of the hallmarks of a great public university is the extent to which it is accessible and responsive to the educational needs of historically disenfranchised populations. EOI was designed to bridge the gap between student aspiration, academic preparation, and collegiate success – and it has done so exceedingly well. The University is indebted to Tendaji Ganges, the founding executive director, for his exemplary leadership," said Charlie Nelms, UM-Flint Chancellor Emeritus.
Its major programs include the Promise Scholar Program, MPowering My Success, GEAR UP, and the Committed to Excellence and Opportunity program. EOI serves more than 200 students.
Dr. Tiese Roxbury leads the EOI team. She came to UM-Flint in 2020 after working as the Assistant Director of Research, Assessment, & Academic Success in the NCAA.
"I feel so privileged to be able to lead an office that serves students in this capacity," she said. "How awesome is it to have a job where you literally spread hope and provide meaningful educational opportunities that make students dream bigger? We are here to change lives."
The Promise Scholar Program makes a UM-Flint degree accessible for a range of high school students. Promise Scholars enter UM-Flint as part of a Learning Community designed to be a supportive environment dedicated to academic success, personal development, and community engagement to college. The Summer Bridge Program allows students to take courses and earn up to 6 free college credits.
As part of new recruitment, retention, and graduation initiatives, Promise Scholar Program students will receive free housing for their first two years and a $2,000 per semester stipend for the first four semesters of the program.
The Committed to Excellence and Opportunity pre-college program provides high school students with academic workshops and leader and cultural enrichment opportunities to increase college access, retention, and graduation rates. The program recently added a virtual reading and writing course by Princeton Review to help students hone critical college readiness skills.
The holistic program is aimed at students who are first-generation college students, from a low-income household, from an underrepresented group, or whose high school has a low college-going rate. As a part of the Committed to Excellence and Opportunity program, students complete service learning hours and SAT prep courses, among other educational activities, as well as receive help applying for college, financial aid, and scholarships. Students who excel in the program have the opportunity to earn a full-tuition scholarship to UM-Flint.
"EOI hopes to grow its programming beyond college readiness and academic development. It is a priority that our students thrive academically, but we also want to give opportunities outside of Flint through programs such as study abroad. It's a long term goal to create global citizens and expand Flint's impact on the world," Roxbury said.
Middle and high school students interested in applying for any of the EOI programs can do so here.
Lindsay Knake
Lindsay Knake is the Communications Coordinator for the UM-Flint Division of Student Affairs. Contact her with any questions, comments, or ideas about the DSA newsletter, social media, events, and communications.